All-Aussie podium as Dennis wins Tour Down Under
Australia's Rohan Dennis won the Tour Down Under cycle race yesterday when his US-based BMC team helped him defend a two-second lead on the 90km final stage around the streets of Adelaide.
Wouter Wippert of the Netherlands won the final stage from Australia's Heinrech Haussler and Belgium's Boris Vallee.
However, Dennis claimed his first win on cycling's World Tour when he held off compatriot Richie Porte to preserve the lead he had held since the third of the tour's six stages.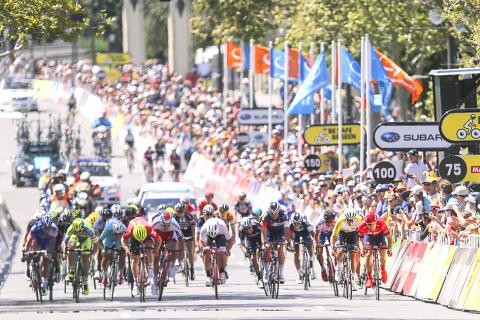 Riders sprint for the line during the final stage of the Tour Down Under in Adelaide, Australia, yesterday.
Photo: AFP
Dennis was first on general classification, 2 seconds ahead of Porte and 20 seconds ahead of compatriot, BMC teammate and former Tour de France champion Cadel Evans, who was riding in his last World Tour event. The result produced the first all-Australian podium in race history.
"I had to make sure that I kept within distance of [Porte], especially after that little spill with about two-and-a-half laps to go," Dennis said. "It's just about following him and making sure that if there was a [break], it wasn't too hard to just jump across and make sure there were no splits in the finish."
"The team rode awesomely again," he added. "I couldn't fault them. They sat at the front, they made sure I was out of the wind. Even when I got pushed back, someone always jumped back and pulled me forward."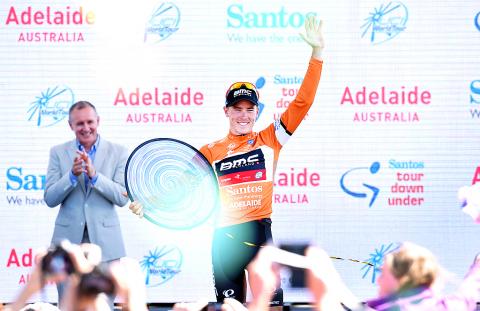 Australian rider Rohan Dennis of team BMC Racing celebrates after winning the Tour Down Under in Adelaide, Australia, yesterday.
Photo: EPA
Dennis was grateful for Evans' unselfishness as he gave up his own ambitions of a win in his last event to help his teammate.
"Cadel just said: 'Follow me,'" he said. "I have all the faith in the world in him. He's the most experienced rider in this bunch."
Evans accepted, as he entered yesterday's final stage 20 seconds behind Dennis, that there was no chance he would end his illustrious career with a tour victory.
"That's the way I wanted my racing career — to go away knowing that I'd given everything without any regrets," he said. "In the last 500m [of Saturday's fifth stage], not that I was thinking of it, but I was absolutely turning myself inside out to follow the moves. In that regard, I feel as I wanted — this competitive spirit, I really wrung it pretty dry."
Evans, who came to road cycling from mountain biking, counted the 2011 Tour de France victory as the greatest achievement of his career. He said he was proud of the way he conducted himself in his last race, giving his all for the success of a teammate.
"First of all, my motive to be a professional is to be a good professional. In most cases, that was for me to get the result for the team," he said. "In this case, we had a rider who was as good or maybe even better than me here. I won a lot of respect from my teammates and colleagues and people within the world of cycling by the way we rode in the last couple of days."
Comments will be moderated. Keep comments relevant to the article. Remarks containing abusive and obscene language, personal attacks of any kind or promotion will be removed and the user banned. Final decision will be at the discretion of the Taipei Times.