Thunder blast past NBA-leading Warriors, 127-115
Russell Westbrook had 17 points, a career-high 17 assists and matched his career best with 15 rebounds for his first triple-double of the season and ninth overall, leading the Oklahoma City Thunder to a 127-115 victory over the Golden State Warriors on Friday night.
Kevin Durant scored 36 points on 14-of-18 shooting, while Serge Ibaka matched his career high with 27 points on 12-of-18 shooting and Dion Waiters added 21. Oklahoma City had lost three of four.
NBA-leading Golden State had won eight in a row and against the Thunder allowed their highest point total of the season.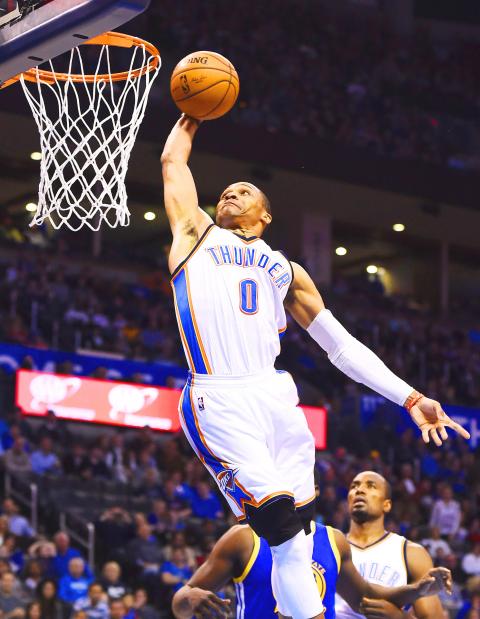 The Oklahoma City Thunder's Russell Westbrook goes in for a dunk against the Golden State Warriors during their game at the Chesapeake Energy Arena in Oklahoma City, Oklahoma, on Friday.
Photo: EPA
Klay Thompson scored 32 points, Marreese Speights had 20 and Stephen Curry added 19 for the Warriors.
CAVALIERS 126, CLIPPERS 121
Kyrie Irving scored 37 points and LeBron James added 32 to help the Cleveland Cavaliers hold off the Los Angeles Clippers.
Tristan Thompson had a season-high 24 points and grabbed 12 rebounds starting in place of Kevin Love, who sat out after hurting his back in Thursday's win over the Lakers.
Blake Griffin had 34 points and 19 rebounds to lead six players in double figures for the Clippers, who had won six of their previous eight. DeAndre Jordan had 19 points and 12 rebounds, Matt Barnes added 17 points and Chris Paul had 15 points.
James tied the game at 97-all early in the fourth on a three-pointer over Austin Rivers, who became the first player in NBA history to play for his father after being signed by the Clippers.
HAWKS 110, RAPTORS 89
Al Horford scored 22 points and the Eastern Conference-leading Atlanta Hawks extended their winning streak to 11 games, beating the Toronto Raptors 110-89.
The Eastern Conference-leading Hawks have won 25 of 27 to improve to 32-8.
The winning streak is their longest since also winning 11 in a row to begin the 1997-98 season.
The Hawks also extended their franchise-record away winning streak to 11 games and are 15-1 on the road since starting 1-4.
Paul Millsap added 16 points, while Jeff Teague and DeMarre Carroll each had 13.
Atlanta, who made 12 of 23 three-point attempts, are unbeaten since a 107-77 blowout loss to Milwaukee on Dec. 26.
Atlanta have not lost away from home since a 100-99 loss at Orlando on Dec. 13.
DeMar DeRozan scored 25 points for Toronto. The Raptors are 2-6 in their past eight games.
NETS 102, WIZARDS 80
Brook Lopez and Jarrett Jack each scored 26 points to help Brooklyn beat Washington and snap a seven-game losing streak.
Lopez, the subject of numerous trade rumors, scored 11 points in just over 2 minutes, 30 seconds in the third quarter. He scored Brooklyn's first eight points of the fourth quarter, too, and had 25 of his 26 points in the second half. Jack had 19 of his 26 points in the final two quarters.
John Wall had 13 points for the Wizards.
The game was the first meeting of Brooklyn's Kevin Garnett and Washington's Paul Pierce since March 4, 2007. Garnett and Pierce played six seasons in Boston together and last season with the Nets. Pierce scored eight points, while Garnett had four.
SUNS 110, TIMBERWOLVES 99
Goran Dragic scored 21 points, Gerald Green added 19 and Phoenix sent Minnesota back to their losing ways.
Mo Williams, after scoring a franchise-record 52 on Tuesday night when the Timberwolves beat Indiana to snap a 15-game losing streak, scored 26 points on 10-for-22 shooting against Phoenix.
Green got his 19 points in 24 minutes after going scoreless in just 8 minutes on the floor in the Suns' win over Cleveland on Wednesday night.
Eric Bledsoe added 16 and Brandan Wright 11 for the Suns, winners of five in a row at home and 2-0 in their franchise-record, eight-game homestand.
Anthony Wiggins scored 17 points for Minnesota.
SPURS 110, TRAIL BLAZERS 96
Kawhi Leonard scored 20 points in his return from a 15-game absence and San Antonio rolled past Portland.
After missing 17 games total due to a torn ligament in his right hand, Leonard's presence energized San Antonio. Tony Parker scored 19 points and Patty Mills added 18 for San Antonio.
LaMarcus Aldridge had 24 points and Damian Lillard added 23 for the Trail Blazers.
JAZZ 94, LAKERS 85
Gordon Hayward scored 31 points on 12-of-18 shooting and added seven assists to lead Utah past Los Angeles.
Derrick Favors added in 18 points and 10 rebounds, while Trey Burke scored 20 points for the Jazz.
Nick Young scored 23 points off the bench for the Lakers, who have lost four straight. Jordan Hill added 16 points for Los Angeles, who played without Kobe Bryant.
Bryant did not travel to Utah following the Lakers' 109-102 home loss to Cleveland on Thursday. Bryant had a career-high 17 assists in that game to go with 19 points and six rebounds.
BULLS 119, CELTICS 103
Derrick Rose scored 20 of his 29 points in the second half and hit three of Chicago's seven three-pointers in the fourth quarter.
Rose also had 10 assists. Jimmy Butler scored 22 points, while Pau Gasol had 20 points and 11 rebounds for Chicago. The Bulls were 27 for 41 in the second half and outscored Boston 31-17 in the fourth quarter.
Jared Sullinger had 20 points and eight rebounds for the Celtics.
In other games, it was:
‧ Grizzlies 106, Magic 96
‧ Mavericks 97, Nuggets 89
‧ 76ers 96, Pelicans 81
‧ Heat 95, Kings 83
‧ Pistons 98, Pacers 96
Comments will be moderated. Keep comments relevant to the article. Remarks containing abusive and obscene language, personal attacks of any kind or promotion will be removed and the user banned. Final decision will be at the discretion of the Taipei Times.