Messi stars in Barcelona victory
AVENGING ARGENTINE: Eight months ago Atletico Madrid won the title in a winner-takes-all finale at the Camp Nou, but this time Lionel Messi shredded their defense
Lionel Messi did everything he could to put end to Barcelona's most serious crisis in years on Sunday, first scoring one goal and setting up two more in a 3-1 win over Atletico Madrid before denying a swarm of rumors swirling around the star forward.
Stifled by Atletico in six winless meetings last season, Messi first shredded the defending champions' vaunted defense with run after run, passing for Neymar to score in the 12th minute and for Luis Suarez to double the lead at the Camp Nou in the 35th.
He then made up for conceding a penalty that led to Mario Mandzukic scoring from the spot in the 57th minute by scoring three minutes from time for his 25th goal in as many games this season.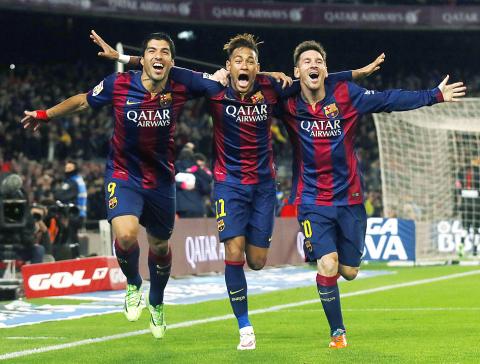 Barcelona's Luis Suarez, left, Neymar, center, and Lionel Messi celebrate scoring against Atletico Madrid in their La Liga match in Barcelona, Spain, on Sunday.
Photo: Reuters
After giving Barcelona control of second place in La Liga, Messi gave a rare interview where he put to bed an entire set of rumors following a tumultuous week for the Catalan club that included the firing of the sports director and the president calling for early elections this summer.
Messi denied media reports that he had asked for coach Luis Enrique to be fired and that his father, who acts as his agent, had spoken to English Premier League clubs Chelsea and Manchester City about a possible transfer.
"I wanted to give my version after hearing so many things," Messi told Barcelona's television station. "I have never asked that they replace a coach and I never would. This hurts and it comes from people who want to hurt the club. I have heard many things, both before and now, that make it look like I run the club. I am a player. I don't take decisions and I don't want to."
As big as his performance was on the pitch, Messi's appearance on television would likely do more to settle down the club's fans and relieve the pressure on Luis Enrique.
However, the coach did not think even the big win would open a new chapter for the team.
"Without a doubt, wins are the only thing that can calm this wave," Enrique said. "All wins reinforce the team, but these are three points, nothing more. When we lose again the tension will come back. It is inevitable."
Elsewhere, Sevilla tightened the race at the top with a 2-0 win at UD Almeria thanks to goals by Vicente Iborra and Jorge "Coke" Andujar, moving into fourth place, two points behind Atletico.
Elche moved off the bottom of the table with a 2-1 win at Athletic Bilbao in their first victorious visit to the Basque club in 20 trips.
Granada fell to the bottom of the standings after a 14th straight game without a win following their 1-1 draw at home with Real Sociedad.
Eight months ago, Atletico won the title in a winner-takes-all finale at the Camp Nou, whose fans ended up honoring the victors, while jeering their own team. On Sunday, it was "Messi, Messi," that rang out after Suarez's goal.
Messi was awarded a trophy by the Spanish league before kickoff for breaking Telmo Zarra's all-time scoring record in November that had stood at 251 goals since 1955.
Messi then proceeded to wreak havoc from his spot on the right side of the attack with repeated dribbles into the thick of Atletico's area.
He unlocked the defense with a burst of speed, before his short cross eventually fell to Neymar after Suarez could not control it for the Brazil striker to toe past goalkeeper Miguel Moya.
With Barcelona pressing for a second goal, Atletico turned up their physicality with hard fouls on both Neymar and Messi. Neymar spent five minutes on the sidelines having a bloody right ankle tended to after Jose Gimenez's tackle.
Suarez got his second goal in 10 league matches after Messi sprinted with the ball at his feet for half the pitch and passed to the striker. Replays showed what the referee had missed — Messi used his arm to control the ball at the start of his run.
The referee did not let Messi get away with a slight kick that grazed Jesus Gamez's boot to set up Atletico's goal.
Comments will be moderated. Keep comments relevant to the article. Remarks containing abusive and obscene language, personal attacks of any kind or promotion will be removed and the user banned. Final decision will be at the discretion of the Taipei Times.