Luck's Colts upset the Broncos
NO CATCH: In Sunday's other game, the Packers were aided by a video reversal of a Cowboys play with just over four minutes remaining, to go on and claim a 26-21 win
Andrew Luck spoiled another Tom Brady versus Peyton Manning showdown.
Hardly pressured all afternoon, Luck threw two touchdown passes and led the Indianapolis Colts past Manning and the Denver Broncos 24-13 on Sunday.
The Colts (13-5) advanced to the American Football Conference championship game against the New England Patriots (13-4), who beat the Baltimore Ravens 35-31 on Saturday night.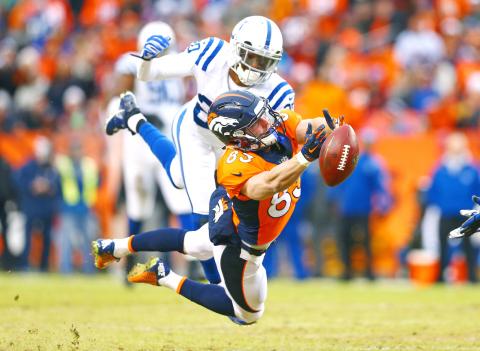 Denver Broncos wide receiver Wes Welker, front, fails to hold on to a pass against the Indianapolis Colts in the second quarter of their American Football Conference Divisional playoff game in Denver, Colorado, on Sunday.
Photo: USA Today
"I think we're playing good team ball," Luck said. "We're feeding off each other. Offensively, we're making enough plays to put some points on the board. Great night. So proud to be a part of the Colts in this victory."
In Sunday's other playoff game, a hobbled Aaron Rodgers rallied the Green Bay Packers from an eight-point deficit with two second-half touchdowns passes to beat the Dallas Cowboys 26-21.
The Packers (13-4), helped immensely by a video reversal of a potentially game-changing Cowboys' play with 4 minutes, 6 seconds remaining, went undefeated at Lambeau Field this season. They head to the Seattle Seahawks next weekend for the National Football Conference title game.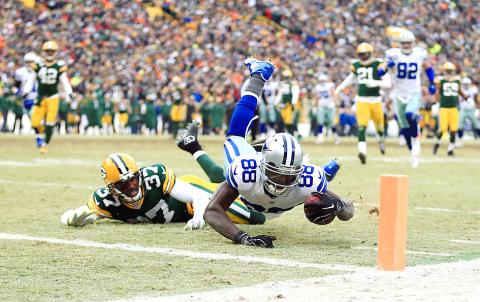 Dallas Cowboys wide receiver Dez Bryant, front, is unable to hold on to a pass against Green Bay Packers cornerback Sam Shields in the fourth quarter of their National Football Conference Divisional playoff in Green Bay, Wisconsin, on Sunday.
Photo: USA Today
The Broncos (12-5) are left to deal with the hangover of yet another playoff debacle — and maybe questions about Manning's future, as well as that of coach John Fox.
Manning, who joined the Broncos in 2012 after his release from Indianapolis, has gone one-and-done in the playoffs a record nine times in his otherwise stellar career, including twice in Denver, where he is 38-10 in the regular season, but just 2-3 in the playoffs.
Overall, he is 11-13 in the post-season and this was one of his worst playoff performances ever. He never found a rhythm, constantly overthrew his receivers and finished 26 of 46 for 111 yards, one touchdown and no interceptions.
Luck completed 27 of 43 passes for 265 yards with two touchdowns and two interceptions that were the equivalent of punts and no sacks.
The Colts stretched a four-point halftime lead to 21-10 when Luck drove the Colts 72 yards in 11 plays, hitting Hakeem Nicks from 15 yards midway through the third quarter.
Luck then drove the Colts 54 yards in 13 plays in the fourth quarter, chewing up more than eight minutes before Adam Vinatieri's 30-yard field goal made it 24-13 with four minutes remaining.
Luck, who replaced Manning at the Colts in 2012, will be the only one of the four starting quarterbacks in the championship games next Sunday without a Super Bowl ring.
Green Bay might not have had any time left in their season if not for referee Gene Steratore's decision on a crucial Cowboys play late in the game.
Dez Bryant's leaping, bobbling 31-yard catch at the Packers one on a fourth-and-second play was challenged by Green Bay coach Mike McCarthy. Instead of first-and-goal for Dallas (13-5), the ball went over to the Packers.
"Some people think throwing the red flag is fun," Packers coach Mike McCarthy said. "It was such an impactful play, you had to challenge. It was a confident challenge and a hopeful one, too."
One packed with controversy, as well.
"Look, I'll tell you this, I've never seen that a day in my life," Bryant said. "I want to know why it wasn't a catch."
Because Bryant did not maintain control all the way to the ground, as the rule states.
Replays showed Bryant bobbling the ball as he rolled into the end zone, with part of it touching the field.
Green Bay closed it out before a Lambeau-record crowd of 79,704 on Randall Cobb's diving 12-yard reception of a deflected pass on third-and-11. That gave Cobb eight catches for 116 yards.
The Cowboys' first post-season trip to Green Bay since the 1967 "Ice Bowl" for the NFL championship resulted in their first road defeat of the season after eight victories. Dallas got 123 yards rushing from league leader DeMarco Murray and a courageous effort from Tony Romo, who hurt his left leg in the third quarter.
Rodgers was also bothered by a left calf he injured in Game 15, losing much of his trademark elusiveness as the game wore on.
Regardless, he was on-target for a short pass to Davante Adams that turned into a 41-yard score to make it 21-20. Then he sharply guided the Packers 80 yards to the winning points, a 13-yard bullet to backup tight end Richard Rodgers at the back of the end zone.
He finished 24 for 35 for 316 yards and extended his record string without a home interception to 442 attempts. He has 39 touchdown passes in that span.
Comments will be moderated. Keep comments relevant to the article. Remarks containing abusive and obscene language, personal attacks of any kind or promotion will be removed and the user banned. Final decision will be at the discretion of the Taipei Times.