Kagawa still ready for match despite falling in training
Japan playmaker Shinji Kagawa suffered a heart-stopping moment during training at the Asian Cup yesterday, when he came down awkwardly on his elbow while playing foot volleyball.
Despite the scare, the Borussia Dortmund midfielder insisted he was not seriously hurt, as the defending champions prepare for their opening Group D game against Palestine tomorrow.
"It was a bit of a close shave, but it's fine," Kagawa told Japanese media after sustaining bruising and sitting out the rest of training as a precaution. "I just landed heavily on my elbow, nothing too serious. It would have been embarrassing to injure myself doing that."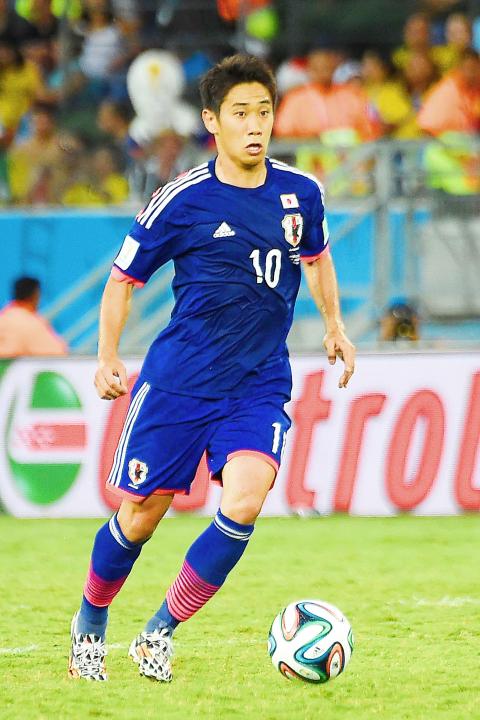 Japan's Shinji Kagawa dribbles the ball during their match against Colombia at the Pantanal Arena in Cuiaba, Brazil, on June 24 last year.
PHOTO: AFP
Kagawa has added incentive to do well at the Asian Cup in Australia after fracturing a metatarsal in the semi-finals of the 2011 tournament and missing Japan's victory over the Socceroos in the final in Doha.
"It was a frustrating situation for me four years ago and I want to be able to contribute this time," said the former Manchester United player, who failed to make an impact at last year's World Cup where the Blue Samurai flopped badly.
"People expect that of me and if I can play well and we get results it will give me confidence, which is what I need, but the main thing is that the team does well," Kagawa said.
Japan, who have lifted the Asian Cup a record four times, are also drawn alongside Jordan and surprise 2007 winners Iraq.
However, hosts Australia threw down the gauntlet with a thumping 4-1 win over Kuwait in the tournament opener on Friday.
"I saw a little bit of the match and it certainly whetted my appetite. As for Palestine, we haven't seen much videotape of them so it's hard to make any judgements. We just have to stay focused on the task ahead," Kagawa said.
Comments will be moderated. Keep comments relevant to the article. Remarks containing abusive and obscene language, personal attacks of any kind or promotion will be removed and the user banned. Final decision will be at the discretion of the Taipei Times.