Spurs goalkeeper Lloris frustrates United
Manchester United were repeatedly thwarted by Tottenham Hotspur goalkeeper Hugo Lloris in a scrappy 0-0 draw on Sunday, but will go into the second half of the Premier League season re-established as a top-four team.
On the slide a year ago in sixth at the midway point, United are now third after extending their unbeaten run to nine matches and primed to return to the UEFA Champions League under Louis van Gaal.
With league leaders Chelsea and second-placed Manchester City also drawing, the result was a missed opportunity for United to cut the seven-point gap.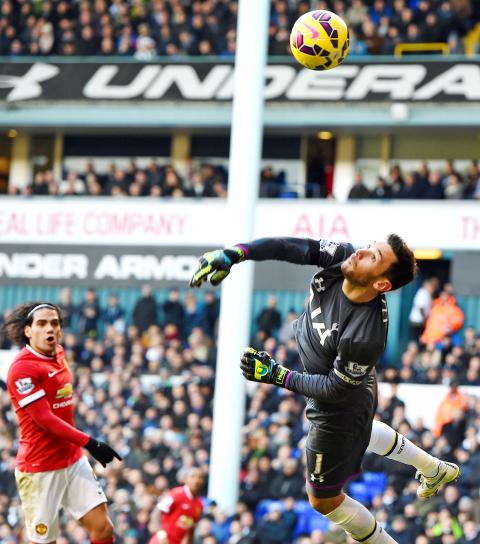 Tottenham Hotspur goalkeeper Hugo Lloris, right, saves a shot by Manchester United's Ashley Young, unseen, as United's Radamel Falcao looks on in their Premier League match at White Hart Lane in London, England, on Sunday.
Photo: EPA
Radamel Falcao, Robin van Persie and Ashley Young were all denied by the France goalkeeper's saves, and although Phil Jones headed the ball into the net in the first half, the United defender was adjudged to be offside.
"It was the best performance of Manchester United this season in the first half," Van Gaal said. "We could have scored four or five goals and we didn't reward ourselves."
The blame was not put on United's misfiring strikers, but on the authorities for scheduling the game less than 43 hours after the teams finished their Friday fixture in England's traditionally congested post-Christmas program.
"It is scientifically proven the body cannot recover in 48 hours," said Van Gaal, who still retained the same players who started in Friday's 3-1 win over Newcastle United. "When you, as a Football Association, allow, you have seen what's it's like... in the second half it wasn't football anymore, it was a struggle for life."
However, both teams had the same recovery period, Tottenham manager Mauricio Pochettino pointed out.
"I never complain when the opponent is in the same condition as you," Pochettino said.
Tottenham went a fifth game unbeaten to provisionally move above Arsenal into sixth place, just a point from fourth-placed Southampton.
It required Lloris to be alert throughout, with the goalkeeper first denying Falcao's 18th-minute shot after the Colombia forward was fed by the lively Juan Mata.
Lloris was beaten when Mata whipped in a free-kick, but spared by the post. When the rebound came off Tottenham defender Ben Davies, Lloris prevented an own-goal, before Vlad Chiriches cleared Falcao's attempt from the goal-line.
The ball did cross the line from Jones' header, but he was offside.
The finishing then let down United as a counterattack ended with a shot from Falcao that failed to trouble Lloris, who also came off his line to prevent a dithering Van Persie from shooting.
Lloris had to be at full stretch to turn Young's shot wide before the end of a half, when Tottenham's goal attempts were restricted to Harry Kane's ineffective close-range effort and Andros Townsend from distance.
Townsend again tried and failed to beat David de Gea with a stinging shot from the outside of the area in a second half when neither side looked capable of scoring.
"I said in the dressing room when you cannot win such type of matches when you are the better team... it's very difficult to be the champion at the end of the season," Van Gaal said.
Comments will be moderated. Keep comments relevant to the article. Remarks containing abusive and obscene language, personal attacks of any kind or promotion will be removed and the user banned. Final decision will be at the discretion of the Taipei Times.