Raptors triumph to snap Clippers' winning streak
RAZOR SHARP: The Clippers' defeat was their first at home since Nov. 17, while the Magic overcame a career-high 42 points from Kemba Walker to beat the Hornets
Kyle Lowry scored 25 points and the Toronto Raptors' reserves came up big in the fourth quarter of a 110-98 victory over the Clippers on Saturday, ending Los Angeles' eight-game home winning streak.
Jonas Valanciunas had 22 points and 11 rebounds for the defending Atlantic Division champion Raptors, who entered the day with a one-game lead over Atlanta for the best record in the Eastern Conference.
Lowry shot nine of 17, after averaging 9.3 points and 27.5 percent from the field over his previous four games against the Clippers.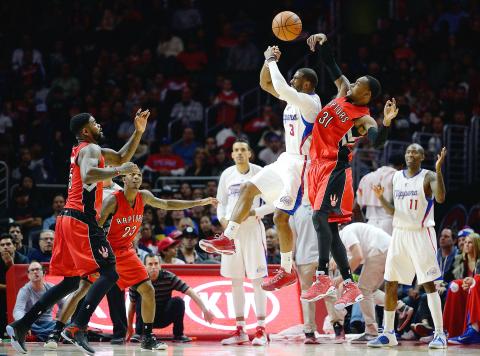 The Los Angeles Clippers' Chris Paul, No. 3, has his shot blocked by Terrence Ross, No. 31, of the Toronto Raptors during their game at the Staples Center in Los Angeles, California, on Saturday.
Photo: AFP
J.J. Redick had 23 points and Blake Griffin had 22 for the Clippers, who lost at home for the first time since Chicago beat them on Nov. 17.
BULLS 107, PELICANS 100
Jimmy Butler scored 33 points and Derrick Rose 19 as Chicago beat New Orleans for their sixth consecutive victory.
The Bulls (21-9) also had three reserves score in double figures, in their ninth win in 10 games.
Aaron Brooks scored 13 points, while Taj Gibson added 12 points and 10 rebounds.
Nikola Mirotic finished with 10 points.
Anthony Davis had 29 points, 11 rebounds and six blocked shots in his first NBA game in his hometown.
Tyreke Evans scored 26 points for the Pelicans and Jrue Holiday had 19 points and seven assists.
The Pelicans (15-15), who were coming off a 97-90 victory over the San Antonio Spurs on Friday night, were outrebounded 45-37 by the Bulls.
MAGIC 102, HORNETS 94
Nikola Vucevic had 22 points and 11 rebounds, while Tobias Harris scored 21 points as Orlando overcame a career-high 42 points from Kemba Walker to beat Charlotte.
Walker scored a Charlotte-record 35 in the second half and finished 15 of 30 in the highest-scoring game of his career, but the Hornets could never regain the lead after falling behind by 10 at halftime.
Victor Oladipo scored 13 points, Evan Fournier had 12, and Ben Gordon and Elfrid Payton each had 11 for the Magic (12-21).
The Magic have defeated the Hornets (10-21) twice in Charlotte this season. Earlier this year they erased a 23-point deficit to win.
WIZARDS 101, CELTICS 88
Kris Humphries scored 18 points, while Paul Pierce had 17 as Washington beat Boston.
It was the Wizards' eighth win in their last 10 games and it was decided quickly.
Washington scored 13 consecutive points to take a 15-2 lead with not even four minutes gone.
Jeff Green scored 23 points for Boston, who have lost four straight.
By the time the Celtics' nightmare first quarter ended, they were behind 30-12 and outrebounded by 16-6 and had eight turnovers.
PACERS 110, NETS 85
Rodney Stuckey scored 20 points and David West added 17 as Indiana overwhelmed Brooklyn.
Former Nets guard C.J. Watson, who played for Brooklyn during the 2012-2013 season, came off the bench and scored 17 points.
Luis Scola added 13, Chris Copeland had 12 and Lavoy Allen chipped in 10.
Jarrett Jack had 22 points and Joe Johnson added 18 for Brooklyn, who had won their previous three games.
The Nets, who entered the night 12-2 against teams with losing records, could not handle the Pacers, who improved to 11-20.
Indiana's bench, third-best in the league with 39.6 points entering the game, outscored their Brooklyn counterparts 52-16.
HAWKS 90, BUCKS 85
Jeff Teague scored 10 of his 25 points in the fourth quarter as Al Horford added 20 to help Atlanta beat Milwaukee.
The Hawks avenged a 30-point loss to Milwaukee on Friday in Atlanta with their 15th win in their last 17 games. Paul Millsap finished with 17 points and eight rebounds for Atlanta.
Khris Middleton led Milwaukee with 21 points, which tied a season high, and O.J. Mayo added 11. Jared Dudley, who made NBA history on Friday by hitting all 10 of his shots, including three three-pointers, shot just three of eight for nine points.
JAZZ 88, 76ERS 7
Derrick Favors had 17 points, 15 rebounds and five blocked shots to lead Utah over Philadelphia.
Trey Burke added 17 points, Gordon Hayward chipped in 15 and Enes Kanter finished with 10 points and 10 rebounds for the Jazz (10-20).
Tony Wroten scored 20 points and Robert Covington added 17 for the Sixers (4-25), who could not overcome a sluggish offensive performance before halftime.
The Jazz limited the Sixers to just 12-of-40 shooting (30 percent) from the field before halftime. Michael Carter-Williams particularly struggled, shooting just one of 13 in the first two quarters. He finished the game just 2 of 20.
KINGS 135, KNICKS 129, OT
DeMarcus Cousins scored nine of his season-high 39 points in overtime in his return from a stomach ailment as Sacramento handed New York its seventh straight loss.
Rudy Gay scored 29 points and Darren Collison added 27 points, 10 assists and a tiebreaking three-pointer late in overtime for the slumping Kings.
Sacramento had lost seven of its previous eight games, including four of five under interim coach Tyrone Corbin.
However, a matchup with the NBA's second-worst team helped reverse that slide.
Carmelo Anthony scored 36 points for the short-handed Knicks, who dressed only nine players in losing for the 17th time in 18 games.
WARRIORS 110, TIMBERWOLVES 97
Stephen Curry had 25 points and six assists, Klay Thompson scored 21 points and Golden State shook off a two-game losing streak by rolling past lowly Minnesota.
Four others scored in double digits as the NBA-leading Warriors (24-5) wore down the last-place Timberwolves in the second half.
Golden State led by 27 points early in the fourth quarter and rested many of its regulars in the final minutes.
Thaddeus Young finished with 17 points and six rebounds, while Zach LaVine had 12 points and 14 assists in Minnesota's eighth straight loss.
The injury-ravaged Wolves (5-24) are in last place in the Western Conference.
Comments will be moderated. Keep comments relevant to the article. Remarks containing abusive and obscene language, personal attacks of any kind or promotion will be removed and the user banned. Final decision will be at the discretion of the Taipei Times.