Restored US ties give new hope to Cuba's athletes
Huge posters of former Cuban president Fidel Castro and former Venezuelan president Hugo Chavez seemed to face each other above the boxing rings at Amistad Arena, suggesting a friendly round of socialist sparring between eternal comrades.
A third presidential aura hovered over the Cuban national championships during the weekend — that of US President Barack Obama, who has ordered the restoration of diplomatic relations between Cuba and the US.
The prospect of better ties between the countries, not to mention future Olympic medals, created an optimistic mood as Cuba's top fighters were escorted to the ring by women in short skirts and high heels and the booming stadium anthem We Will Rock You.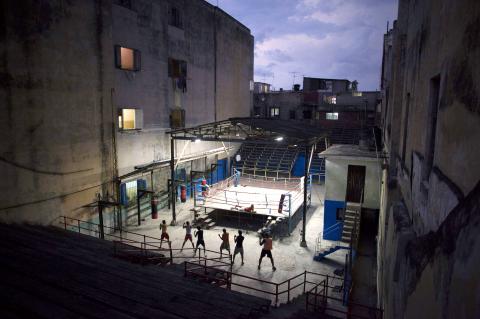 Teenagers attend a boxing lesson in downtown Havana, Cuba, on Sept. 3.
Photo: Reuters
"Not only sports, but almost everything in life is going to be better," said Julio Cesar la Cruz, 25, a two-time amateur world light heavyweight champion, whose sentiment was repeated often here among boxers and officials.
In sporting terms, much more is in play in Cuba than the possibility of its terrific baseball players gaining unrestricted access to the major leagues.
Cuba is seeking to maintain its pre-eminence as a regional athletic power, despite decades of erosion caused by the US trade embargo and the collapse of the Soviet Union and the Eastern bloc, formerly the nation's primary sporting benefactors.
The 15 medals won by Cuba at the 2012 London Olympics were its fewest at a Summer Games since 1976 (not counting the 1984 and 1988 events, which it boycotted).
Its stadiums are decaying, and some equipment is sorely lacking, something officials attributed to an inability to buy on credit.
Seeking much-needed hard currency, and to dam a flood of defections by elite athletes over the years, Cuba has also embraced a concept that was once anathema to its revolutionary ideal: professional sports, barred by Castro in 1961.
Today, Cuba's top Olympic-caliber fighters can earn between US$8,000 and US$12,000 a month, according to the president of the country's boxing federation.
"If it was possible to go to the US to train and compete and come back freely, I think 100 percent of the Cuban team would come back," said Robeisy Ramirez, the 2012 Olympic flyweight champion, who turned 21 on Saturday.
The US also has its reasons to facilitate athletic relations with Cuba. For one thing, the US Olympic Committee plans to bid for the 2024 Summer Games and will be seeking as many friends as possible to bolster a US city's chances.
Coaches at US universities have also begun to consider the potential of reciprocal trips to train and compete in Cuba. They may also offer athletic scholarships to Cuban athletes in sports like track and field, wrestling and baseball.
"Any time we get a young person in the country for educational purposes, it can't hurt relations," said Pat Henry, a prominent track and field coach at Texas A&M, who has won 35 indoor and outdoor NCAA titles there and at Louisiana State. "That's the way you effect change."
In Olympic-related sports like boxing, wrestling, and track and field, and to a lesser extent soccer, elite athletes from the US and Cuba already compete and travel regularly between the two countries. These exchanges seem certain to increase. And in sports in which Cuba has an advantage, US officials will no doubt seek to import Cuban coaches and expertise.
About 1,500 Cuban coaches are working in more than 70 countries, in effect rented out for cold cash.
"I've tried to get one of their top coaches and athletes here as one of my assistants for years," said Steve Fraser, a 1984 Olympic champion in Greco-Roman wrestling and the head coach of the national team for 18 years, who is now the chief fundraiser for USA Wrestling. "It has been impossible. I'm hoping that will loosen up."
Baseball is Cuba's most popular sport, but it has been dropped for now from the Olympics. Boxing, with its numerous weight classes, has long been the country's most reliable producer of gold medals; Cuba has won 34.
Teofilo Stevenson, a heavyweight who won three golds from 1972 to 1980, once gave a short and loyal explanation about why he would not leave Cuba for the riches of professional boxing.
"What is a million dollars worth compared to the love of 8 million Cubans?" said Stevenson, who died in 2012.
International isolation and the disappearance of mandatory amateurism from the Olympics have given Cuba a more pragmatic approach to professionalism.
Last year, Cuban officials announced that athletes could turn professional and compete in foreign leagues. They keep 80 percent of their earnings, officials said.
In exchange, the athletes agree to compete for Cuba in important domestic and international competitions.
In June, Cuba won a country-versus-country competition called the World Series of Boxing, which brought a first-place prize of US$500,000. The share for Ramirez, the Olympic champion, was a US$5,000 bonus, and US$400 more for each victory in the tournament, his mother said.
As an Olympic gold medalist, Cuban officials said, Ramirez is entitled to US$300 a month for life. (The average monthly salary in Cuba is about US$20.) He has also been provided with a home and a car, a white Chinese-made model that sat in the parking lot at the championships.
With Ramirez's earnings, including a minimum of US$1,000 a month for being a part of the national team, he said, he bought a television and a refrigerator for his mother and lavished attention on his year-old daughter.
"The way of life is better," Ramirez said. "It helps so much."
Comments will be moderated. Keep comments relevant to the article. Remarks containing abusive and obscene language, personal attacks of any kind or promotion will be removed and the user banned. Final decision will be at the discretion of the Taipei Times.