NZ seeks to reap what Auckland City sowed in Club World Cup medal finish
New Zealand's Auckland City become the first Oceania team to win a medal at the FIFA Club World Cup on Saturday after they defeated Cruz Azul 4-2 in a penalty shootout to claimed third place in the tournament.
New Zealand soccer's governing body wasted little time in seeking to capitalize on the amateur club's victory.
The Oceania champions shocked many pundits by making the semi-finals and their victory ensured a lucrative payday for soccer in New Zealand, with Auckland City entitled to half of the more than NZ$3 million (US$2.32 million) in prize money they won.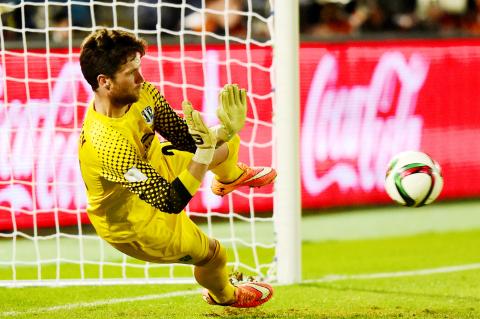 Auckland City goalkeeper Jacob Spoonley saves a penalty shot in their FIFA Club World Cup third-place match against Cruz Azul at the Stade de Marrakesh in Morocco on Saturday. Auckland defeated Cruz Azul 4-2 on penalties.
Photo: AFP
The remainder will go to New Zealand Football (NZF), who will disperse it among the eight other teams in their top-tier amateur club competition and use it to boost their own high-performance funding.
"Our recently launched high performance strategy — Beyond Football — sets in place a path to ensure we as a game are able to achieve the type of success Auckland City has produced this month on the biggest stages on a regular basis," NZF chief executive Andy Martin said in a statement. "The funds coming back into the game as a result of their success will be used with that end firmly in mind."
The Auckland team's unlikely run through the competition garnered massive interest in rugby-mad New Zealand, with the games shown live on television and their progress leading sports news bulletins and the back pages of newspapers.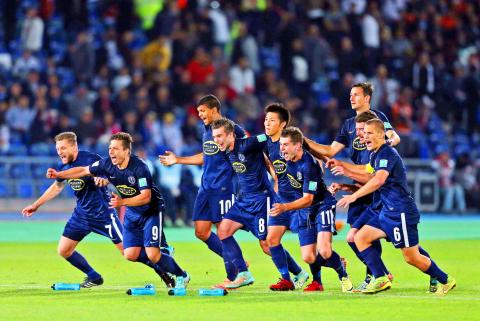 Auckland City players celebrate during their penalty shootout against Cruz Azul, which they eventually won to claim third place at the FIFA Club World Cup in Marrakesh, Morocco, on Saturday.
Photo: EPA
Television networks also crossed live to the club's Kiwitea Street ground for reaction during the semi-final.
"When you look at the response here in New Zealand during Auckland City's run it is obvious there is a big football audience in this country and it is our aim to mobilize that audience on a more regular basis in the future," Martin added. "On behalf of everyone associated with football in New Zealand I congratulate Auckland City FC on their marvelous achievement on the world stage."
Auckland return home to the national club competition and a clash with the Wellington Phoenix development side on Jan. 11.
However, several of the players could be on the radar of professional clubs, with the New Zealand Herald reporting that former Everton defender John Irving was the most likely to attract attention after strong performances in Morocco.
Comments will be moderated. Keep comments relevant to the article. Remarks containing abusive and obscene language, personal attacks of any kind or promotion will be removed and the user banned. Final decision will be at the discretion of the Taipei Times.