Khan vows to destroy Alexander
British boxer Amir Khan is desperate to make up for lost time when he finally steps into the ring tonight in Las Vegas to face the US southpaw Devon Alexander.
"Devon's got me at my best time. I am going to be more ready than I was last year," said Khan, who will wear boxing's "most expensive shorts" — white nappa leather, silk and featuring a waistband made of 24-carat gold thread.
Khan, who turned 28 on Monday and has among the fastest hands in boxing, was originally scheduled to fight the dangerous Alexander for the IBF welterweight title in December last year in New York. However, the Briton scrapped the bout because he thought he had a chance at landing a blockbuster showdown with Floyd Mayweather Jr that never came off.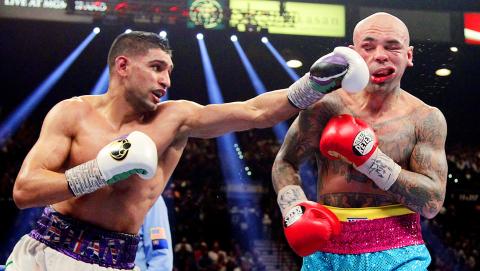 Amir Khan of England, left, connects with a left to the face of Luis Collazo of the US on May 3 at the MGM Grand in Las Vegas, Nevada.
Photo: AFP
Alexander then lost the title to Shawn Porter, and Khan's fellow Briton Kell Brook snatched it from Porter in August.
Even though there is no title on the line this time at the MGM Grand Hotel, Khan (29-3, 19 KOs) sees tonight as a stepping stone to bigger paydays and a chance to show off his improved defensive skills.
"It didn't happen last December because obviously we changed a few things and I was hoping for the big fight against Floyd and that fell through," the former IBF and WBA light welterweight world champ said. "You can't compare the Amir Khan 12 months ago to the Amir Khan now, I am way ahead. I am much better and much smarter."
Khan and former two-division champion Alexander (26-2, 14 KOs) will square off in a 12-round non-title welterweight bout. Khan is coming off a victorious welterweight debut in May, when he looked sharp in a unanimous decision over former champion Luis Collazo.
That bout was on the undercard of Mayweather's fight against Marcos Maidana and saw Khan quickly shake off any rust from a 12-month ring absence in impressive fashion.
Both have made some special plans for this fight. Khan will be wearing US$31,000 trunks, while Alexander, who is from St Louis, Missouri, will have as a guest the father of Michael Brown, the 18-year-old shot dead by a policeman in the St Louis suburb of Ferguson.
Khan has been training in Oakland, California, with Virgil Hunter since September.
Khan says that in 13 weeks of training, he has sparred 162 rounds.
Khan said hiring Hunter as his trainer was the best career move he had ever made, resulting in three straight victories.
Khan's critics say he has a glass chin, so Hunter has been trying to improve his defense.
"When I put an attack together, there has to be a way out or there has to be a way to stay out of trouble during that assault," Khan said. "You can still be exciting, throw a lot of punches, but you have to be careful at the same time."
Meanwhile, the 27-year-old Alexander looked impressive in beating Jesus Soto Karass six months ago.
"I don't see anything special with Khan," the American said. "He's a little fast, but what else? Everybody's fast. You've got to have something else in your arsenal at the top level."
Promoter Oscar de la Hoya has been billing tonight's fight as a stepping stone to a Mayweather or Manny Pacquiao world title bout.
However, asked earlier this week by reporters to be more specific, De la Hoya said: "I am just speaking as a promoter... I don't know if a Pacquiao and Mayweather fight's going to happen. I have no idea."
Comments will be moderated. Keep comments relevant to the article. Remarks containing abusive and obscene language, personal attacks of any kind or promotion will be removed and the user banned. Final decision will be at the discretion of the Taipei Times.