Cavs royally trounce Nets in front of William, Kate
LeBron James and the Cavaliers turned a close game into a clinic as Prince William and his wife, Kate Middleton, watched from courtside seats as Cleveland beat the Brooklyn Nets 110-88 on Monday.
Kevin Love was shooting free-throws when the royal couple emerged into the stands with 7 minutes, 14 seconds remaining in the third quarter. Perhaps distracted by the ensuing loud roar from the crowd, Love missed the second, leaving the game tied at 61.
James proceeded to put on a stellar show, throwing sharp passes to go with his nine points in the period and the Cavs cruised from there to their seventh straight victory.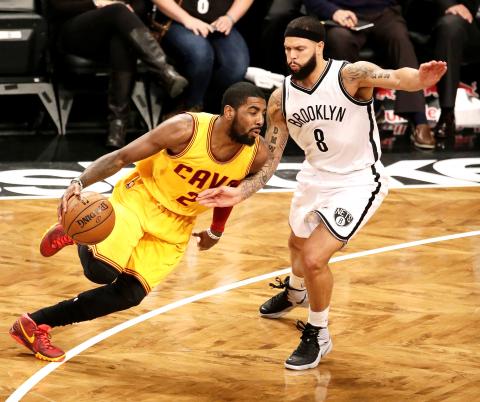 Cleveland Cavaliers guard Kyrie Irving, left, tries to drive the ball past Brooklyn Nets guard Deron Williams in their NBA game in New York on Monday.
Photo: EPA
He finished with 18 points after joining Kyrie Irving and some Nets players in wearing "I Can't Breathe" shirts during warmups in support of US man Eric Garner, who reportedly died after being put in a chokehold by a police officer.
WARRIORS 102, TIMBERWOLVES 86
In Minneapolis, Minnesota, Stephen Curry overcame a rare off-night from long range to post 21 points and seven assists, helping Golden State to their 13th consecutive win with a victory over Minnesota.
Curry missed six of seven three-point attempts, but the top-ranked Warriors' defense forced the short-handed Timberwolves to shoot 36 percent and turn the ball over 19 times for an NBA-best 18-2.
Klay Thompson added 21 points and the Warriors left holding their breath after Andrew Bogut suffered a knee injury. He watched the rest of the game from the bench.
Andrew Wiggins had 21 points and six rebounds for the Timberwolves, who were without three starters and have lost six in a row.
RAPTORS 112, NUGGETS 107 OT
In Toronto, Kyle Lowry had 13 points and 13 assists, while Jonas Valanciunas added 18 points and 12 rebounds as Toronto rallied to beat Denver in overtime.
Lou Williams scored 26 and Amir Johnson 18 for the Raptors, who trailed by five points with less than three minutes to play, but got a game-tying three-pointer from Patrick Patterson with 28 seconds left.
WIZARDS 133, CELTICS 132, 2OT
In Washington, John Wall scored 26 points, including the last 10, as Washington rallied to beat Boston in double overtime.
Wall added a career-high 17 assists, Paul Pierce scored a season-high 28 points, while Marcin Gortat had 21 points and 12 rebounds for Washington.
Also on Monday it was:
‧ Hawks 108, Pacers 92
‧ Kings 101, Jazz 92
‧ Clippers 121, Suns 120
Comments will be moderated. Keep comments relevant to the article. Remarks containing abusive and obscene language, personal attacks of any kind or promotion will be removed and the user banned. Final decision will be at the discretion of the Taipei Times.