Qatar fit to host World Cup: Brazilian sports minister
Brazil's sports minister backed the choice of Qatar to stage the 2022 FIFA World Cup amid controversy over its selection.
Brazilian Minister of Sports Aldo Rebelo, who recently traveled to the emirate, said it has the ability to host the most-watched tournament in sports. The world's richest nation per capita is spending an estimated US$200 billion on preparations that include building a new city, roads and a subway.
It has also promised to construct air-conditioned stadiums to mitigate searing temperatures that a FIFA panel described as a health risk to players, officials and fans.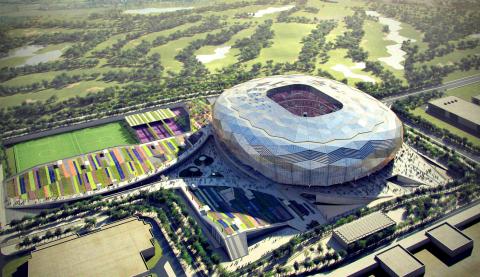 A computer-generated image made available on Tuesday by Qatar World Cup's Supreme Committee for Delivery and Legacy, which is responsible for organizing the 2022 FIFA tournament, shows an artist's impression of the Qatar Foundation Stadium that is planned for Doha.
Photo: AFP
"Soccer is the most-popular sport on the planet, and the Arab world has never hosted the World Cup," Rebelo told reporters at Rio de Janeiro's Maracana Stadium, site of the World Cup final in July. "They have the conditions to host it."
Soccer's governing body, FIFA, is discussing moving the event to cooler months, and is favoring a tournament in November and December or January and February. The changes would mean upheaval for leagues around the world and risk a clash with the Winter Olympics.
Rebelo said the climate must be considered, but is not enough to prevent "a payback to the Arab people for their love of football."
Rebelo said some critics do not like FIFA's designation of World Cup hosts because it has favored so-called BRICS nations in recent years. South Africa hosted before Brazil, and Russia is to stage the next event in 2018. China — which hosted the 2008 Summer Olympics — and India complete the BRICS.
Russia and Qatar were selected on the same day in 2010, following an anonymous vote by FIFA's executive board. The bidding process was investigated by former US attorney Michael Garcia, who disputed a summary of his report last month by the German judge at the head of the adjudicatory panel of FIFA's ethics committee.
Qatar and Russia have said they behaved properly at all times.
Rebelo listed doping and match-fixing, as well as buying major events, as risks to the integrity of sports.
He said FIFA "has the autonomy to decide what happens" if it finds that the World Cup vote was compromised.
"It will also be bad for sponsors," he said. "Who would want their brands associated with scandal?"
Brazil has signed an accord with Russia to assist in the preparations for the World Cup there, and welcomed 120 observers from Qatar during this year's event.
Comments will be moderated. Keep comments relevant to the article. Remarks containing abusive and obscene language, personal attacks of any kind or promotion will be removed and the user banned. Final decision will be at the discretion of the Taipei Times.