Janay Palmer defends husband's history
Janay Palmer, the wife of former Baltimore Ravens running back Ray Rice, insisted in an interview on NBC's Today program that her husband had never hit her prior to their fight in a New Jersey casino elevator in February.
"There's no way," Palmer told NBC in an interview that aired on Monday. "He knows what he would have to deal with. I'm not going to sit there in silence and let something happen to me and, God forbid, in front of my child."
Rice's one-punch knockout of Palmer, who was then his fiancee, put his NFL career in jeopardy and thrust the issue of domestic abuse into the national spotlight.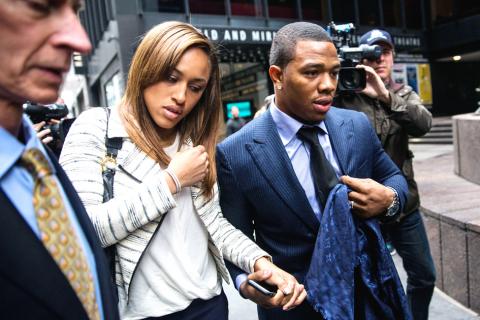 Suspended Baltimore Ravens football player Ray Rice, right, and his wife Janay Palmer arrive for a hearing in New York City on Nov. 5.
Photo: AFP
The first video of the fight that went viral in February showed Rice calmly pulling an unconscious Palmer from the elevator.
"He was in such shock that this had just happened, and he didn't know how to function at that point," Palmer said. "By that time, hotel security is there. The police are there."
NFL commissioner Roger Goodell suspended Rice for two games, but after a second video emerged in September from inside the elevator showing the knockout punch, the Ravens released the player and Goodell suspended him indefinitely from the league.
However, an independent arbitrator on Friday said that Rice, in essence, was sanctioned twice for the same crime and ruled he was free to sign with any National Football League team.
In her comments on Monday, Palmer said "people are human" and are prone to lapses in judgement.
"Everybody makes mistakes," she said. "You would think that we lived in a country of people who have never made a mistake, who've never sinned ever in their life."
In the second part of the interview, which was to air yesterday, Palmer said the Ravens gave her "a general script" when she and Rice met with the media following the fight and she apologized.
"That was frustrating for me, because obviously people took it as, you know, I'm taking light off of what Ray did," she said. "In no way... He was wrong."
"At the same time, I didn't think it was completely wrong for me to apologize, because at the end of the day I got arrested too, so I did something wrong too," she said.
While Ray is now a free agent, it is unclear if any team will sign him.
Comments will be moderated. Keep comments relevant to the article. Remarks containing abusive and obscene language, personal attacks of any kind or promotion will be removed and the user banned. Final decision will be at the discretion of the Taipei Times.