Serena returns from break, beats Flipkens at debut of IPTL
Serena Williams emerged from a month-long layoff on Sunday to beat Kirsten Flipkens at the debut tournament of the International Premier Tennis League (IPTL), a fast-paced, television-friendly new version of the sport.
The American world No. 1 broke Flipkens on her first service game and then went on to systematically attack the Belgian's second serve and triumph 6-3.
"It was fun. She played really well and she made it really entertaining for the crowd and I was happy to be there. The crowd was pumped. I was pumped," Williams told reporters.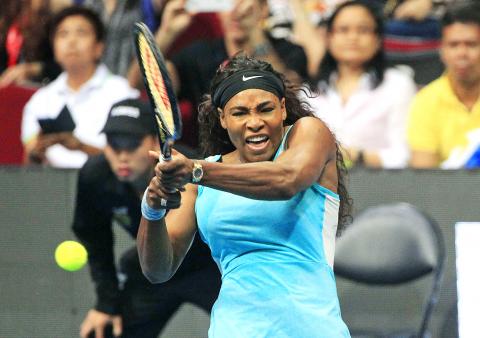 Serena Williams of the Singapore Slammers returns to Kirsten Flipkens of the Manila Mavericks during their women's singles match at the International Premier Tennis League in Manila, Philippines, on Sunday.
Photo: Reuters
Williams and Lleyton Hewitt, playing for the Singapore Slammers team, earlier lost their mixed doubles match against Flipkens and Andy Murray of the Manila Mavericks team 1-6. However, the powerful American got into her rhythm as the evening wore on.
Williams, who last played at the Women's Tennis Association Finals in Singapore, winning the tournament on Oct. 26, admitted she was rusty at first following the break.
"Yes, it was a factor initially, but it's good to get some match play," she said.
"You have to just go the second you land [even though] you have this jetlag," she said.
The team-oriented IPTL format, which has attracted many of the world's top players, features ties consisting of five one-set matches.
Williams will also play in the Singapore leg of the IPTL tour that begins today, before starting her training for next year's regular women's tour.
For world No. 6 Murray, the mixed doubles win was his first in the IPTL tournament.
He later went on to beat Williams' Singapore Slammers teammate Nick Kyrgios 6-5, after a five-minute shootout to break a 5-5 tie.
"It was nice to finish the weekend with two wins today," Murray told reporters.
He had lost to world No. 9 Marin Cilic of the UAE Royals team on Friday last week and Gael Monfils of the Indian Aces team on Saturday, while his mixed doubles partnership with Maria Sharapova also brought two consecutive losses.
After Singapore, the IPTL tour moves to New Delhi before concluding the year in Dubai.
Comments will be moderated. Keep comments relevant to the article. Remarks containing abusive and obscene language, personal attacks of any kind or promotion will be removed and the user banned. Final decision will be at the discretion of the Taipei Times.