Vettel, new team Ferrari face tough road ahead to regain past Formula One glory
Sebastian Vettel's move to Ferrari seems a fitting one, as it brings together motor sport's most prestigious team and its most successful driver in the current era. However, the pleasant symmetry stops there — the harsh reality is that Ferrari and Vettel have lost their way and need each other to find a route back to the top.
This season, Ferrari failed to win a race for the first time since 1993, while Vettel went without a win for the first time since 2007, his debut F1 season in which he raced only eight times.
That is some contrast to last year, when the German won 13 races. This year he managed just four podiums and finished fifth, 217 points behind champion Lewis Hamilton.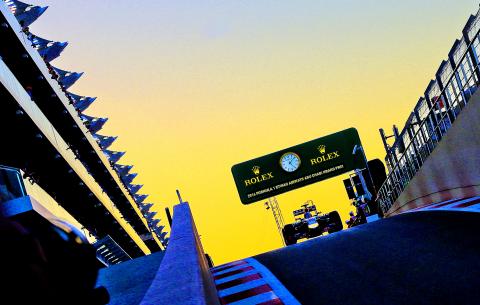 Red Bull's German driver Sebastian Vettel races at the Yas Marina Circuit during qualifying for the Abu Dhabi Formula One Grand Prix on Saturday.
Photo: EPA
"I know that there is a mountain of work waiting for me and that is part of the task that I have chosen," Vettel said. "I think if you climb a mountain together, that is a very strong bond and then ending up successful, that is a fantastic outlook."
Patience will clearly be required by both parties: Since Alonso's triumph at the Spanish Grand Prix in May last year, Ferrari have gone 33 races without a win — a painfully long stretch that led to Marco Mattiacci replacing longtime team principal Stefano Domenicali.
After five seasons and three runners-up campaigns, two-time F1 champion Fernando Alonso decided he had had enough. Despite the offer of a new contract until 2019, he left Ferrari and is widely tipped to replace Jenson Button at McLaren.
Yet if Ferrari's problems keeping up with Red Bull during Vettel's time there were frustrating enough, this year they have fallen even further behind Mercedes, who easily secured a 1-2 double in the drivers' and constructors' championships.
Ferrari came fourth in the constructors' championship, more than 100 points behind Williams. This gave them limited bargaining power when it came to persuading Vettel to join and the challenge facing the 27-year-old German is considerable.
He was comprehensively beaten by Daniel Ricciardo, his less experienced and less illustrious teammate, who won three races and took five third-place finishes in his first season with Red Bull.
Vettel has been on the front row of the grid only three times this season and qualified in the top four only once in the last seven races. Quite a fall for a driver with 39 career GP wins and 45 pole positions.
In a somewhat humiliating end to his Red Bull career, he finished eighth in Sunday's Abu Dhabi GP.
Still, Red Bull put a giant sticker on their garage floor saying: Danke Seb! ("Thanks Seb!") in recognition of his efforts.
Comments will be moderated. Keep comments relevant to the article. Remarks containing abusive and obscene language, personal attacks of any kind or promotion will be removed and the user banned. Final decision will be at the discretion of the Taipei Times.