Hamilton claims second world title in Abu Dhabi
BITTERSWEET END: Though he came second overall, Hamilton rival Rosberg scored a victory of sorts after defying myriad technical problems to push his car to the finish line
Graham Hill would doubtlessly have done it differently — where James Hunt might have staggered into the morning, clutching bottles in both hands on the way to bed, Lewis Hamilton yesterday celebrated his second Formula One title with bright eyes and a spring in his step.
A glass of watermelon juice and a few sips of "some kind of Cognac thing" were sufficient carousing for Britain's first multiple champion since Jackie Stewart.
One of only four Britons, including the late Hill, to have won the F1 crown twice, Hamilton said his achievement had yet to sink in.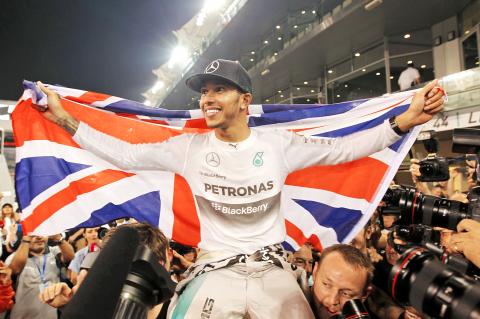 Mercedes driver Lewis Hamilton of Britain celebrates with his team after winning the Abu Dhabi Formula One Grand Prix at the Yas Marina Circuit in the United Arab Emirates on Sunday.
Photo: Reuters
"I feel fresh, I only had one drink last night, which is more than good enough for me," the Mercedes driver told a breakfast news conference. "I don't drink Champagne. I had a watermelon juice at dinner, which is my favorite. Then when I was at the party there was some kind of Cognac thing ... but it didn't taste very nice. So I had a couple of sips and that was it."
If the early hour was not greeted with universal delight, there were no complaints from Hamilton.
"It's definitely an incredible feeling to wake up this morning feeling fresh in my surroundings and with all the different people who have been involved in my career over 21 years," he said. "The sun is shining and I feel really blessed."
The first champion for a Mercedes works team since Argentine Juan Manuel Fangio in 1955, Hamilton said he spent the evening with family, reminiscing.
The Briton recalled his karting days, sitting by a gas heater drinking chicken soup from a flask, and the sacrifices his father had made.
"Then I popped out to the party and [Mercedes motorsport head] Toto [Wolff] was all over the place at that point," Hamilton said laughingly as Wolff sat alongside him wearing a pained expression.
After the race, beaten teammate Nico Rosberg tweeted: "Now it's time to fight for the party world championship" and it seems that the German won that battle.
Hamilton was happy to let that one go; winning Sunday's season-ending Abu Dhabi Grand Prix must have been enough.
The 29-year-old, who took his first title in 2008 with McLaren, won not only the 55-lap race, but also his private duel with Rosberg, who suffered prolonged problems with his car after making a poor start.
Having started from the pole for the 11th time this year, Rosberg was outpaced immediately as Hamilton surged clear to control the race with a dominant performance.
Hamilton's victory was his 11th of the season, 33rd of his record-breaking career and secured a record 16th win of the season for Mercedes.
Beset by car problems, Rosberg finished 14th, lapped by his teammate and bitterly disappointed.
Losing position after position over multiple mechanical issues, Rosberg's agonies were relayed to the world by team radio on lap 37 when he asked about his position.
"It's not good at the moment," the team replied.
"What the hell does that mean? What can I do?" Rosberg said.
"Just drive flat-out Nico..." they answered.
Hamilton praised his teammate, saying: "I wanted to battle to the end, but will take what we had. Nico put on an incredible charge and I'm grateful I had a good battle."
Hamilton came home 2.5 seconds clear of second-placed Felipe Massa of Williams and his teammate Valterri Bottas of Finland in third.
Australia's Daniel Ricciardo was fourth for Red Bull ahead of Briton Jenson Button in what may be his last race with McLaren, with Force India duo Nico Hulkenberg of Germany and Mexican Sergio Perez in sixth and seventh respectively.
Four-time world champion Sebastian Vettel of Germany was eighth in his final race with Red Bull, one ahead of the man he replaces at Ferrari next season, Spain's Fernando Alonso, and Finn Kimi Raikkonen in the second Ferrari.
Rosberg struggled with a series of problems, but refused to retire when offered a chance to pit with two laps remaining.
"I'd like to go to the end," Rosberg said, despite knowing his fate when he was lapped at the end.
Showing great sportsmanship and dignity in defeat, he went to the pre-podium room to embrace and congratulate Hamilton, a gesture that spoke volumes of their rivalry.
Comments will be moderated. Keep comments relevant to the article. Remarks containing abusive and obscene language, personal attacks of any kind or promotion will be removed and the user banned. Final decision will be at the discretion of the Taipei Times.