Kimi Raikkonen sees fun times ahead with Vettel
Kimi Raikkonen saw fun times ahead after Ferrari ended months of waiting and confirmed that Sebastian Vettel would replace Fernando Alonso at the Formula One team next season.
Where Alonso and Raikkonen were seen as a fire and ice pairing of champions, "two roosters in one henhouse" as former chairman Luca Di Montezemolo put it, the team's lineup of champions for next year promises to be easier.
The Finn and German get on well, both sharing a dry sense of humor and uncomplicated approach to racing.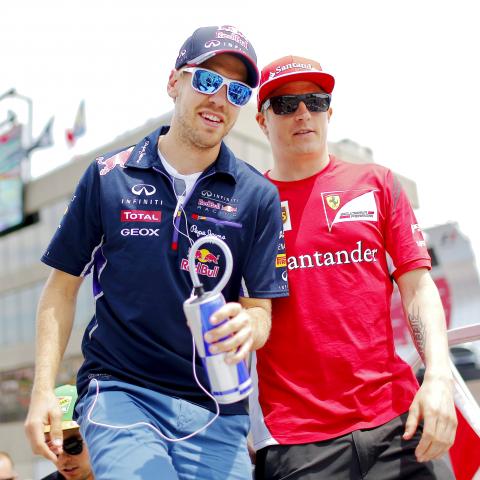 German Formula One drivers Sebastian Vettel, left, of Red Bull Racing and Kimi Raikkonen of Scuderia Ferrari walk in the drivers parade at the Gilles Villeneuve circuit in Montreal, Canada, on June 8.
Photo: EPA
"Obviously I haven't worked with him before in the same team, but I know him best out of any of the guys," said Raikkonen, who won his title with Ferrari in the same 2007 season that saw Vettel's F1 debut. "Our relationship has been always been very straightforward and I don't expect any changes... We try to beat each other all the time, but we can have fun and get things done in a good way."
Vettel, a quadruple champion with Red Bull who looked forward to following in the footsteps of boyhood hero Michael Schumacher when he starts at Maranello, echoed Raikkonen's words.
"Kimi is probably the least complicated driver on the grid," Vettel said. "When we talk about the skills Kimi has, I don't think there is a single person in the paddock who doubts his skills, including myself, but from a personal point of view, very straightforward."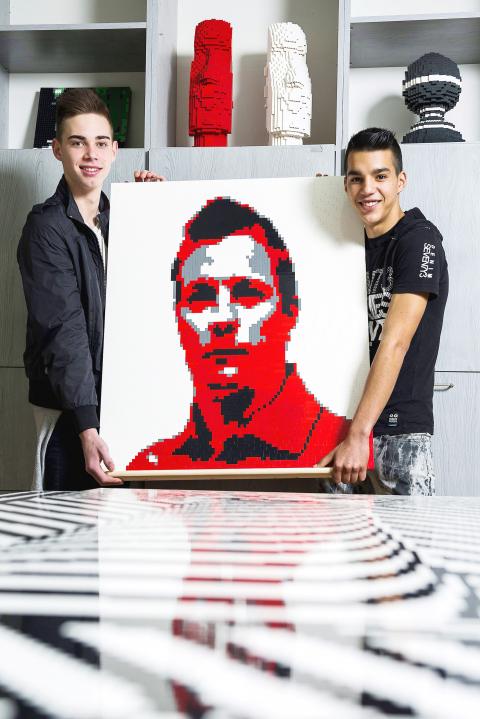 Hungarian students pose with a portrait of Finnish Formula One driver Kimi Raikkonen made of Lego bricks at the Wesselenyi Miklos Grammar and Vocational School and College in Nyiregyhaza, Hungary, on Monday.
Photo: EPA
"I don't expect any complications, because I think we have a good relationship... We have great respect for each other, which I think is always very healthy to deal with in these sorts of situations coming up," he added.
Neither Vettel nor Raikkonen has won a race this season, both lagging their teammates in the championship, while Ferrari are going through considerable upheaval as they seek to return to winning ways.
Comments will be moderated. Keep comments relevant to the article. Remarks containing abusive and obscene language, personal attacks of any kind or promotion will be removed and the user banned. Final decision will be at the discretion of the Taipei Times.