Croatian federation urges government to stop hooliganism
Croatia's Football Federation (HNS) on Monday urged the government to act and put an end to hooliganism following ugly flare-throwing incidents during the country's Euro 2016 qualifying tie in Italy.
The incidents at Milan's San Siro tarnished Sunday's match that ended in a 1-1 draw and which saw a 10-minute stoppage after visiting fans targeted Italy goalkeeper Gianluigi Buffon with flares.
"Unfortunately, the Croatian team's excellent performance slid into the background due to the incidents seen by the whole world," an HNS statement said.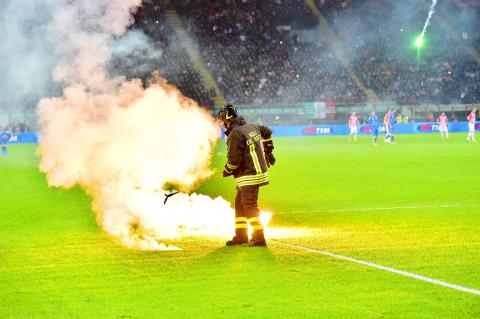 A firefighter removes flares thrown by fans onto the pitch during the UEFA Euro 2016 qualifier between Italy and Croatia at the San Siro in Milan, Italy, on Sunday.
Photo: AFP
The HNS lamented that "well-deserved praise was taken away from them [the team] by hooligans who unjustly call themselves 'Croatia fans.'"
Condemning the incidents, the federation urged the Balkan country's judicial bodies to prosecute all hooligans who took part in the trouble.
"We urge all other segments of society, starting with the government, to consider those incidents, which shamed the Croatian state, as the 'drop that spilled the cup' which will push all those who can influence the solving of problems to energetic and decisive reactions," it said.
The HNS said it was not the only hostage of hooliganism, due to which, it said, it was paying "draconian fines to FIFA and UEFA," but rather the whole country "whose reputation is harmed immeasurably by such incidents."
"Unlike HNS, the state has mechanisms and power to eradicate hooliganism, violence and illegal behavior at stadiums," it said.
The federation apologized to hosts Italy and spectators at the match, but they also argued that they had warned their Italian counterparts and UEFA representatives on failures in the Italian ticket sales system, due to which about 1,400 Croatian tickets bypassed the federation and ended up in hooligan hands.
On Sunday, Croatia coach Niko Kovac spent most of the post-match press conference apologizing for the disruptive behavior of his country's notoriously difficult fans.
Croatia's fans have a reputation for troublesome behavior and flares are regularly fired at Croatian league matches.
After Sunday's match, Croatia remained top of Group H, with Italy still in second spot having now failed to beat their rivals in their past seven games.
Comments will be moderated. Keep comments relevant to the article. Remarks containing abusive and obscene language, personal attacks of any kind or promotion will be removed and the user banned. Final decision will be at the discretion of the Taipei Times.