Gordon Hayward wins for Jazz at buzzer
FINAL-SECOND HEROICS: Hayward one-upped LeBron James with the jump shot, as the Cavs fell to 1-3, while in Milwaukee, Derrick Rose returned to help the Bulls to a win
Gordon Hayward made a step-back jump shot at the buzzer, one-upping LeBron James and boosting the Utah Jazz to a 102-100 victory over the struggling Cleveland Cavaliers on Wednesday.
Hayward, who had 21 points, broke free of James to catch an inbounds pass, faked a move to the basket and then stepped back on the right wing and swished a 21-foot jump shot as the horn sounded.
The forward was mobbed by his Jazz teammates in a scene reminiscent of a college tournament game.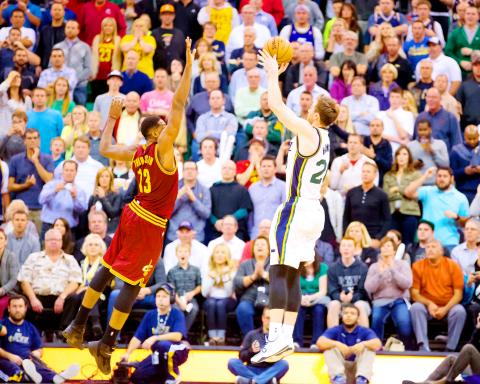 Utah Jazz guard Gordon Hayward, right, shoots the game-winning shot over Cleveland Cavaliers forward Tristan Thompson during the second half at EnergySolutions Arena in Salt Lake City, Utah, on Wednesday.
Photo: USA Today
Derrick Favors had 21 points and 10 rebounds, but the Jazz had to overcome a last-minute effort by James, who scored 31 points as Cleveland fell to 1-3.
SPURS 94, HAWKS 92
In San Antonio, Tim Duncan had 17 points and 13 rebounds as San Antonio held on for their 17th straight win at home over Atlanta.
The Spurs had a season-high 25 assists for a balanced scoring effort that they needed to fend off the Hawks' furious rally in the final quarter. Tony Parker scored 17 points and Manu Ginobili added 12, including a pair of free throws with 3.8 seconds remaining.
After a closing double-team forced Jeff Teague to pass up an attempted three-pointer, Pero Antic's shot from near halfcourt was blocked by Boris Diaw as time expired.
DeMarre Carroll, Paul Millsap and Al Horford had 17 points each for Atlanta.
The Spurs have never lost at home to the Hawks since drafting Duncan and have won 16 of 17 overall.
BULLS 95, BUCKS 86
In Milwaukee, Wisconsin, Derrick Rose returned from his latest injury and helped Chicago to another victory at Milwaukee.
Taj Gibson scored 23 points, Pau Gasol added 22 and Rose had 13 points and seven assists in 32 minutes for the Bulls, who have beaten the Bucks nine straight times in Milwaukee.
Giannis Antetokounmpo had 13 points and eight rebounds for the Bucks.
With Chicago leading by one, Gasol hit a jumper and Butler made an acrobatic layup. That started a clinching 9-2 run that was capped by Kirk Hinrich's three-pointer with 2 minutes, 16 seconds remaining.
Rose, who missed most of the past two seasons because of serious knee injuries, sat out the Bulls' previous two games with sprains in both ankles.
GRIZZLIES 102, SUNS 91
In Phoenix, Mike Conley had 24 points and 11 assists as Memphis used a strong defensive effort in the third quarter to beat Phoenix and remain unbeaten.
The Grizzlies, who won all four meetings last season, forced 10 turnovers in the third and turned an 11-point deficit in the second period into a five-point lead going into the fourth. Conley and fellow guard Courtney Lee, both coming off injuries, combined to score 17 of Memphis' 30 third-quarter points.
Lee, who missed the past two games with a concussion, scored 22 points with four-of-five shooting on three-pointers. Memphis (5-0) are off to the best start in franchise history.
Eric Bledsoe made his first eight shots for Phoenix and finished with a season-high 23 points.
PISTONS 98, KNICKS 95
In Auburn Hills, Michigan, Greg Monroe had 23 points and 18 rebounds as Detroit held off New York for their first win of the season.
The Pistons (1-3) went one-for-17 on three-pointers in Sunday's loss to Brooklyn, but Kentavious Caldwell-Pope hit their first three attempts against New York, and they ended up with a season-high 11.
Tim Hardaway Jr scored 20 points for the Knicks, who lost at home to Washington on Tuesday night. They were facing a rested Detroit team that had two days off before the game.
Carmelo Anthony had only 13 points on five-of-21 shooting for New York. He missed his first nine shots and did not score until the final minutes of the second quarter.
In other NBA action, it was:
‧ Raptors 110, Celtics 107
‧ Hornets 96, Heat 89
‧ Timberwolves 98, Nets 91
‧ Wizards 96, Pacers 94, Ot
‧ Magic 91, 76ers 89
‧ Warriors 121, Clippers 104
‧ Kings 131, Nuggets 109
Comments will be moderated. Keep comments relevant to the article. Remarks containing abusive and obscene language, personal attacks of any kind or promotion will be removed and the user banned. Final decision will be at the discretion of the Taipei Times.