McKenzie denies affair as texts ruckus deepens
Australia coach Ewen McKenzie denied having an affair with a staff member as a row over allegedly offensive texts sent by Kurtley Beale took an unexpected twist yesterday.
A stony-faced McKenzie rejected rumors about his relationship with business manager Di Patston, who is on stress leave following a mid-flight argument with Beale during last week's trip to Argentina.
Beale was suspended from the Argentina game over the argument and was later barred from selection indefinitely after the emergence of "deeply offensive text messages" concerning a member of staff.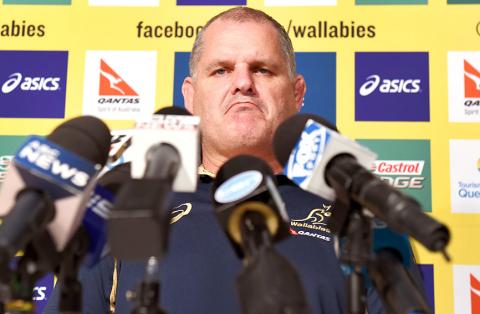 Australia rugby union coach Ewen McKenzie reacts during a press conference in Sydney yesterday.
Photo: AFP
"I've got a professional relationship with her, and I refute that," McKenzie told reporters, when asked if he had an "intimate" relationship with Patston.
"There are people out there and that there's some sort of campaign to impugn, that's [not] the situation," said McKenzie, who is married with children. "I've got a professional relationship with her and I refute that."
Beale is under investigation by the Australian Rugby Union (ARU) over both the argument and the text messages, and is expected to face a hearing early next week.
Australian media reports said the situation had become divisive in the Wallabies camp, which is also reeling from last week's 21-17 defeat — Argentina's first win in the Rugby Championship.
"I don't think I have a divided camp. I know there's been lots of talk in the newspapers and everyone's got an opinion, but I know the playing group," McKenzie said.
He defended Patston's appointment, which was made during his tenure, and said he did not believe it had caused "angst" in the Australia squad.
"She came in as the business manager and she came in with a specific role to take the team to a new level," McKenzie told a press conference in Sydney. "She's got extraordinary skills, and she had made a massive difference to the business side of it and that's what she's done."
McKenzie was also frustrated that the Wallabies were being sidetracked ahead of their final Bledisloe Cup Test with New Zealand in Brisbane next week.
"I am annoyed because in the end we are trying to run a football program and it's got sidetracked, and it's been sidetracked in many different ways," he said. "It's frustrating, but there is a challenge to try and put that back on track. I can't stop people speculating. It's me this week, it will be someone else next week, that's the way it is. I accept that it's the life in the public domain, but you just get on with it."
Beale has been suspended indefinitely while the ARU investigation plays out.
The 47-Test back last year was forced to undergo counseling and rehabilitation for his struggles with alcohol.
McKenzie said he only found out about the text messages, which reportedly contain lewd pictures and date back to June, last week.
"I became aware of the existence of the text messages in Buenos Aires. I know the content, I haven't seen the photos," McKenzie said. "When I became aware of it I forwarded the information on, then she [Patston] obviously left because of stress and the way she felt about the environment, and then it was left to the integrity unit as we advised at the time."
Patston flew home early from Argentina and she has been on leave ever since.
Comments will be moderated. Keep comments relevant to the article. Remarks containing abusive and obscene language, personal attacks of any kind or promotion will be removed and the user banned. Final decision will be at the discretion of the Taipei Times.