Dutch teen Verstappen to make history at Suzuka track
As Lewis Hamilton aims to complete a hat-trick of wins and extend his narrow Formula One championship lead over Mercedes teammate Nico Rosberg at this weekend's Japanese Grand Prix, the F1 establishment will be nervously watching to see how Max Verstappen — too young to drive a car in his native Netherlands — handles a 300kph beast on the legendary Suzuka track today.
With five races remaining, the gap between Hamilton and Rosberg stands at just three points after the Briton recorded his seventh win of the season at the Singapore Grand Prix last month.
A win by Hamilton at the demanding circuit would be a major step toward a second championship for the 29-year-old, but he has never won at Suzuka and will face a stiffer test than in Singapore, where Rosberg had to retire his car early due to an electronics malfunction.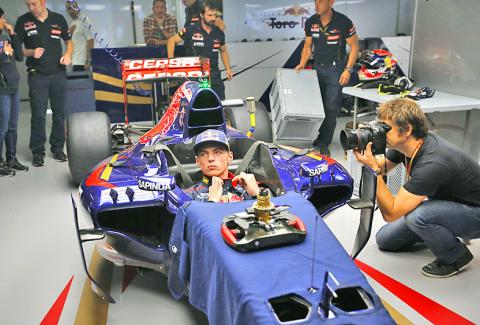 Toro Rosso driver Max Verstappen sits in his F1 car after an FIA emergency escape test at the Suzuka circuit in Japan, yesterday ahead of Sunday's GP.
Photo: Reuters
If not focused on the Hamilton-Rosberg rivalry, observers will be watching the 17-year-old Verstappen, son of F1 veteran Jos Verstappen, with some worried that he is taking a risk at such a tender age and others concerned about how big a star he is going to become.
The impact will start as soon as the young Verstappen climbs into a Toro Rosso to be let loose at Suzuka for a historic session of free practice before Sunday's GP.
Max Verstappen was only 16 when he passed his racing driver's super-licence last month. He was 17 on Tuesday and today will become the youngest-ever F1 debutant.
Jos Verstappen took part in 107 GPs between 1994 and 2003. His career highlights were two podium finishes as Michael Schumacher's Benetton teammate at the Hungarian and Belgian GPs. The elder Verstappen is best-known as the driver who survived when his car exploded in a fireball at the 1994 German GP.
Much more is expected of Max Verstappen, already an accomplished Formula Three driver, who will replace Frenchman Jean-Eric Vergne for the morning today and permanently from next season.
"I am looking forward to taking part in a free practice session at a Grand Prix for the first time — it's good preparation for next year even if it's not something I could have imagined a few months ago," said the teen, who comes off as remarkably mature. "I have spent one day driving this track on the simulator, which helps a bit, but it's no substitute for driving it for real."
Vergne, now hunting for an F1 job for next year, has said little. The 24-year-old will return in the afternoon aiming to record lap times better than those of the Dutch kid born in Hasselt, Belgium.
"The world is looking at him — and that's not a small piece of pressure," three-time champion Jackie Stewart, now 75, told the BBC. "He has been sensational early in his career, but F1 is another story. He will face more pressure than a young driver would have been exposed to years ago. I've seen some great young drivers come along and the pressure has been too much for them. It can go either way."
Record-setting aside, Verstappen knows that from today he will be only be judged by his speed and not his age; Formula One can be fickle.
Comments will be moderated. Keep comments relevant to the article. Remarks containing abusive and obscene language, personal attacks of any kind or promotion will be removed and the user banned. Final decision will be at the discretion of the Taipei Times.