Taiwan adds 11 medals to Incheon haul
CASHING IN: As Taiwanese won more silver and bronze at the Asiad, the Chan sisters got NT$9.3m in cash from the state for the five tennis medals they claimed earlier
Taiwanese athletes picked up another 11 medals at the Asian Games in Incheon, South Korea, yesterday, placing in the top three in the taekwondo, softball, soft tennis, bowling and canoe kayak obstacle slalom competitions.
In taekwondo, Taiwan's Chen Yen-ming claimed the bronze in the men's under-63kg semi-finals after he fell 5-2 to Thailand's Akkarin Kitwijarn, while Chuang Chia-chia also won bronze in the women's under-62kg category when she was beaten 5-2 by China's Zhang Hua in their semi-final.
In the softball, Taiwan beat China 4-3 in the women's final, before being routed 6-0 by Japan in the grand final yesterday afternoon to claim the silver medal.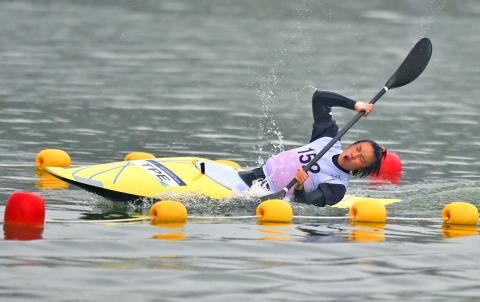 Taiwan's Chang Chu-han competes in the Asian Games kayak single women's final at the Hanam Mirasi Canoe and Kayak Center in Incheon, South Korea, yesterday.
Photo: AFP
In the soft tennis, Taiwanese duo Lin Ting-chun and Li Chia-hung lost the men's doubles final 5-2 to South Korean pair Kim Dong-hoon and Kim Beom-jun to bag the silver medal after Taiwan's Lai Li-huang and Ho Meng-hsun were beaten by the South Koreans in the semi-finals to snag the bronze.
In the semi-finals of the women's doubles, Taiwanese pairing Cheng Chu-ling and Chen Yi-chia lost 5-1 to South Koreans Kim Aek-yung and Joo Og to pick up the bronze.
In the bowling, Taiwan's Wang Ya-ting won the silver medal after defeating South Korea's Son Yun-hee 193-190 in the stepladder final round 1, before falling to a 477-437 defeat to Lee Na-young of South Korea in the stepladder final round 2.
In the canoe kayak obstacle slalom, all four Taiwanese competitors made it through to the finals yesterday, but all came away with silvers.
Chen Wei-han, who was a member of the women's canoe single team that won the Asian Championships in Shuili last year, was beaten in the final of the women's single canoe by China's Cen Nanqin.
Taiwan's Cheng Yun-chuan fell to Japan's Takuya Haneda in the men's canoe single final, Cheng Chu-han was defeated by China's Li Tong in the women's kayak single final and Pan Hung-ming fell to Japan's Kazuya Adachi in the men's final.
Taiwan's women's basketball team just missed out on a medal after they were edged 61-59 by Japan in the bronze-medal match, while the women's volleyball team beat Kazakhstan 2-0 to finish fifth.
The men's rugby team came eighth following a 12-10 loss to Thailand, as Taiwanese table tennis player Chuang Chih-yuan made it through to the semi-finals of the men's singles after overcoming North Korea's Pak Sin-hyok 11-6, 11-8, 5-11, 11-7, 11-8.
Meanwhile, tennis players Chan Yung-jan and younger sister Chan Hao-ching are to receive more than NT$10 million (US$328,787) in cash rewards for bagging five medals at the Games.
As part of Taiwan's winning women's tennis team, the sisters brought home a gold apiece, which earned them NT$3 million under a government incentive program. They also finished third in the women's doubles, gaining NT$900,000 each for their bronze medals.
Chan Hao-ching was awarded another NT$1.5 million for her silver medal in the mixed doubles.
The sisters' total government reward was NT$9.3 million, while their sponsor, Taiwan Mobile Co Ltd, chipped in NT$1 million in recognition of their performances.
Comments will be moderated. Keep comments relevant to the article. Remarks containing abusive and obscene language, personal attacks of any kind or promotion will be removed and the user banned. Final decision will be at the discretion of the Taipei Times.