Pacquiao 'pities Mayweather,' vows to play basketball
Philippine boxing hero Manny Pacquiao yesterday brushed off Floyd Mayweather Jr's latest taunts, saying he pitied his US rival as he urged him to read the Bible.
Pacquiao also assured fans that he would play a few minutes of professional basketball when the new season opens next month, even while he trains for a match in Macau in November against unbeaten American Chris Algieri.
Despite calls by boxing fans for the two biggest names in the sport finally to meet, Mayweather has refused to commit to a match, but has not refrained from baiting Pacquiao.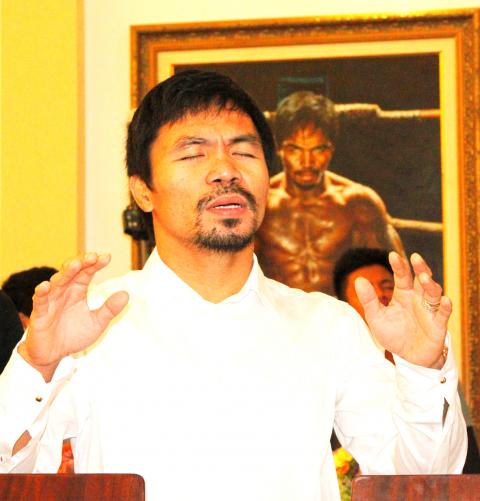 Philippine boxing icon Manny Pacquiao prayS during the dedication ceremony of his youngest child at his house in General Santos City, Philippines, on Sunday.
Photo: AFP
In his latest jibe, Mayweather — undefeated in 47 fights — recently posted several pictures on his social media account, showing Pacquiao knocked down in his past fights.
He added that "Miss Pac Man is broke for a pay day."
The deeply religious Pacquiao, who has 56 wins and five losses, said: "I'm not affected by it. I pity him and I pray that someday he would change his ways."
"He [Mayweather] should fear God," Pacquiao said, advising him to heed the biblical passage reading "For what is a man profited if he shall gain the whole world and lose his own soul?"
The 35-year-old Pacquiao, who has held world titles in eight separate weight divisions, has other things to worry about than Mayweather's insults.
Aside from training to defend his WBO welterweight title against Algieri, he is also acting as coach and player for the newly created Kia Motors team in the highly-competitive Philippine Basketball Association (PBA).
The 1.69m Pacquiao said he would make training for the fight his main priority, leaving most of his basketball duties to his assistant coach.
"I already talked to [boxing] coach Freddie [Roach] that I am going to play in the PBA maybe just two to three minutes. My focus is on my training for the November fight," he said.
Comments will be moderated. Keep comments relevant to the article. Remarks containing abusive and obscene language, personal attacks of any kind or promotion will be removed and the user banned. Final decision will be at the discretion of the Taipei Times.