British prosecutors charge NZ's Chris Cairns with perjury
British prosecutors on Thursday charged former New Zealand great Chris Cairns with perjury.
The charge relates to a 2012 libel action that Cairns successfully brought against former Indian Premier League chairman Lalit Modi over a tweet accusing the all-rounder of match-fixing during his time in the now-defunct Indian Cricket League (ICL).
While Cairns, 44, has been charged with one count of perjury, a friend who appeared as a witness at the libel trial, lawyer Andrew Fitch-Holland, has been charged with perverting the course of justice.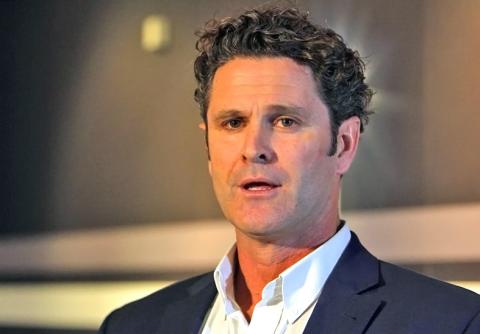 Former New Zealand cricketer Chris Cairns arrives at Auckland Airport in New Zealand on May 30 after returning from the UK, where he spoke with authorities about allegations of match-fixing.
Photo: AFP
The two men were formally charged on Thursday after attending a central London police station and are due to appear before a court in London on Oct. 2. Cairns could face seven years in prison if found guilty.
The Metropolitan Police said that two other people arrested in the investigation, a 33-year-old woman and a 36-year-old man, had been released without charge.
Cairns, who won £90,000 (US$146,000) in the libel action against Modi, has vehemently denied any wrongdoing.
Speaking after Britain's Crown Prosecution Service confirmed he was to be charged with perjury earlier this month, he said: "I'm obviously extremely disappointed."
"However, at least there will now be an opportunity to face my accusers in an open forum, with some rigor and proper process around that, so that I can clear my name once and for all," Cairns said.
Fitch-Holland, 49, was previously involved in a case against the England and Wales Cricket Board when they banned players who had appeared in the ICL in 2008.
Cairns' former teammate Lou Vincent, who was banned for life earlier this year for match-fixing, has alleged that a world-famous international dubbed "Player X" lured him into a murky world of corruption that included offers of cash and sex to rig matches.
Cairns has said that he believes he is the player to whom Vincent was referring, but has questioned his accuser's credibility, describing the allegations he faces as "absurd, bizarre and scary."
Comments will be moderated. Keep comments relevant to the article. Remarks containing abusive and obscene language, personal attacks of any kind or promotion will be removed and the user banned. Final decision will be at the discretion of the Taipei Times.