Jeter closes home career with winning RBI
MAJOR LEAGUES
Derek Jeter closed out his glorious career at Yankee Stadium in epic fashion, knocking in the game-winning run with a walk-off single as New York slipped past the Baltimore Orioles 6-5 on Thursday.
Jeter said so long to the delirious Bronx faithful as the Yankees' iconic captain winds down his two decades-long MLB career with a storybook ending in his final game at home.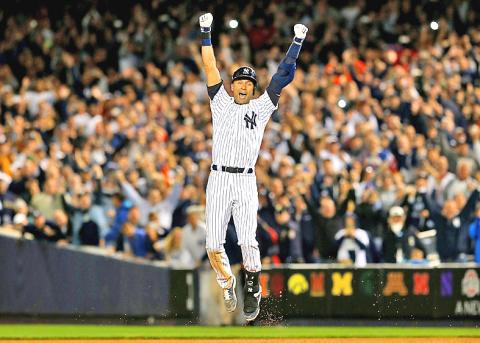 The Yankees' Derek Jeter celebrates after driving in the winning run during their game against the Orioles in New York on Thursday.
Photo: AFP
"It has been a fun 20 years," the 40-year-old Jeter said.
Jeter, who also barely missed a home run with a RBI double off the wall in his first plate appearance, looked calm on the outside, but admitted he was a bundle of nerves in front of a sold-out crowd of 48,613.
"I don't know what just happened," the 14-time all-star said. "For the first time in my career, I was saying please don't hit it to me. I thought I was going to lose it, and then I had to get ready to hit."
With the scores tied 5-5 in the bottom of the ninth, the future Hall-of-Famer stepped up with a runner on second base and blasted an opposite field single through the gap between first and second base.
Yankees' Antoan Richardson then slid into home safely to beat the throw from Nick Markakis for the winning run, which touched off a wild celebration in the infield around Jeter.
"This was a weird game," the shortstop said. "I am in tears right now, just a run of emotions."
Indeed it did. The only down side is that Jeter's magical finish came one day after the Yankees were eliminated from playoff contention by the Orioles.
The Yankees move into a season-ending three-game in Boston, where Jeter said he would finish out his playing career.
Jeter plans to step aside as the team's shortstop and bat as a designated hitter against Boston.
"Yes I will play in some capacity. This is my last game at shortstop. Out of respect to the Boston fans I will play," he said.
Jeter said the past few weeks of his farewell tour have been mentally taxing.
"I think I've done a pretty good job of controlling my emotions throughout the course of my career. I've tried to hide them. Today I wasn't able to do it," he said. "It was odd. To be honest the last few weeks got tougher and tougher. It was very difficult, but always worthwhile."
Jeter's final game at Yankee Stadium could not have begun any worse. Just eight pitches in, New York starter Hiroki Kuroda gave up two home runs. However, by the time the first inning ended, the crowd was back on their feet chanting Jeter's name.
That set the stage for the first of a series of magical moments from Jeter, who won four World Series in his first five seasons with the Yankees.
Even an equipment malfunction in his first at-bat could not stop him from getting the RBI double off the wall to drive in teammate Brett Gardner for New York's first run. Jeter then scored when the next hitter, Brian McCann, smashed a grounder that Orioles second baseman Kelly Johnson could not handle, tying the game.
"I don't know how I played this game," Jeter said. "When I went up for my first bat, I forgot my elbow pad. I was all messed up."
Forgotten amid all the jaw-dropping heroics from Jeter was the reality that the Yankees will not be going to the post-season for the second consecutive year.
The weather also backed off on a threat to spoil Jeter's memorable night, as the rain that forecasters had predicted stayed just off to the east of New York's Bronx borough.
In other games on Thursday, it was:
‧ Reds 5, Brewers 3
‧ Nationals 4, Mets 7 (Game 1)
‧ Nationals 3, Mets 0 (Game 2)
‧ Blue Jays 5, Mariners 7
‧ Marlins 6, Phillies 4
‧ Tigers 4, Twins 2
‧ Red Sox 11, Rays 1
‧ Braves 1, Pirates 10
‧ Rangers 2, Athletics 1
‧ White Sox 3, Royals 6
‧ Giants 9, Padres 8
Comments will be moderated. Keep comments relevant to the article. Remarks containing abusive and obscene language, personal attacks of any kind or promotion will be removed and the user banned. Final decision will be at the discretion of the Taipei Times.