Seoul clears Asian Games path for N Korean team
South Korea yesterday gave the green light for North Korea's athletes and officials to fly over the sensitive Yellow Sea border as contacts resumed about their participation in the Asian Games.
A letter from organizers of the quadrennial Games — Asia's biggest sporting event — in Incheon, South Korea, was passed to the North via the truce village of Panmunjom in their heavily fortified border, Seoul officials said.
While few details of the letter were divulged, the South Korean Ministry for Unification said it would approve a rare flight over the Yellow Sea, a flashpoint area and scene of bloody clashes in the past.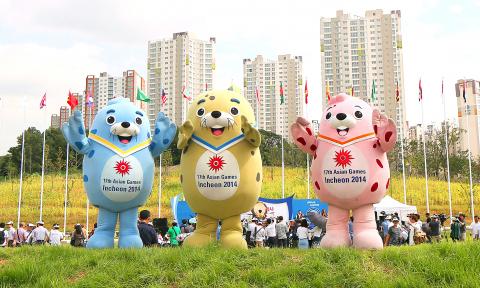 The Athletes' Village for the Incheon Asian Games in South Korea is presented to reporters yesterday at a media day event in Incheon, west of Seoul.
Photo: EPA
The ministry said a total of 273 athletes and officials would be allowed on the flight to Incheon, west of Seoul. The ministry declined to confirm a Yonhap News Agency report saying Seoul is willing to show flexibility on who will pick up the bill for the visiting team.
Pyongyang officials reportedly walked out of a meeting on the issue last month after Seoul proposed breaking with its custom of financially supporting sports teams visiting from the North.
Written contacts have resumed following a request from a group of North Korean officials, who visited the South for last week's Asian Games draw and pledged to slash the number of officials in their final delegation.
No details were given about whether the North's team would be accompanied by 350 cheerleaders, as originally proposed by Pyongyang, at the Sept. 19 to Oct. 4 Games.
In other Asian Games news, Pornsai Jakkaphan, tipped to captain Thailand at the tournament, will not be able to compete in South Korea after the Football Association of Thailand forgot to register him.
The 27-year-old Suphanburi FC midfielder was excluded from the original lineup, but called up to replaceme Pinyo Inpinit, one of three over-age players in the U-23 squad.
Jakkaphan, the most experienced player in the squad, joined his teammates in Bangkok on Monday ahead of a training camp in Phuket for the Games, only for the Olympic Committee of Thailand to reveal his ineligibility. The body said Jakkaphan's name was not on the list of 40 registered with the International Olympic Committee.
Thailand have been drawn in Group C with Indonesia, East Timor and the Maldives as they aim to win a first Games medal in soccer after three fourth-place finishes.
Comments will be moderated. Keep comments relevant to the article. Remarks containing abusive and obscene language, personal attacks of any kind or promotion will be removed and the user banned. Final decision will be at the discretion of the Taipei Times.