Ledecky sets world record again in 400m freestyle
At the Pan Pacific Championships in Australia on Saturday, Katie Ledecky smashed another world record and Michael Phelps won his first individual gold medal since coming out of retirement.
US teenager Ledecky set the first world record of the Gold Coast meet, shaving almost half a second off the 400m freestyle mark she set at this month's US Championships.
The 17-year-old schoolgirl clocked 3 minutes, 58.37 seconds to eclipse her previous mark by 0.49 seconds.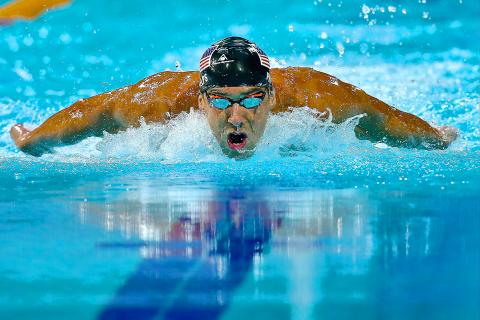 The US' Michael Phelps swims in the 200m butterfly final at the Gold Coast Aquatic Centre in Australia yesterday.
Photo: AFP
"It's a great feeling. It never really gets old," Ledecky said of her latest world record-breaking swim. "I knew I could be right where I was at nationals, or slightly better. I'm really pleased with that."
While it was Ledecky's fourth gold medal of the championship, it was Olympic legend Phelps's second win, but first individual gold in taking out the 100m butterfly from teammate Ryan Lochte.
Phelps, 29, who was a member of the US' winning 4x200m freestyle relay on Friday, shaded Lochte by 0.38 seconds in winning the butterfly event in 51.29 seconds, adding to his haul of international titles just four months into his comeback.
"It's definitely feels good to have that sort of confidence back to be able to do it in an individual event," said Phelps, who has now won 15 golds over four Pan Pacs meets. "What it does is guarantee me a spot on the world championship team next summer, which is the biggest and most important thing. I know there is a lot [that] can happen in a year with training, I'm looking forward to it, it's a building year for me."
Phelps, an 18-time Olympic champion, said he still has a few things to iron out after ending a near two-year retirement after the London Olympics.
"After just getting back in the water and going through the ups and downs, it's still some of the small things like hitting the walls like I want to at a high speed," he said. "That's something that I have to work on over the next year and really nail it."
Ledecky holds the world records in the 400m, 800m and 1,500m freestyle to make her the first woman since US distance great Janet Evans to hold all three records at the same time.
Ledecky's win the 400m final was her fourth gold medal of the Pan Pacs after wins in the 200m and 800m freestyle and as part of the US 4x200m freestyle relay.
"I have some long-term goals. We're not quite there yet, but we'll get there," she said.
Ledecky is to race in the 1,500m freestyle event today, the last day of the meet, as she chases five gold medals.
Comments will be moderated. Keep comments relevant to the article. Remarks containing abusive and obscene language, personal attacks of any kind or promotion will be removed and the user banned. Final decision will be at the discretion of the Taipei Times.