New United boss meant I was out, Ferdinand says
A change of manager at Manchester United from Ryan Giggs to Louis van Gaal led to the club telling Rio Ferdinand they did not want him anymore, the 35-year-old defender said on Monday.
The centerback has signed a one-year contract at promoted Premier League side Queens Park Rangers having spent 12 trophy-laden years at Old Trafford.
"When Ryan Giggs took over the job at United... he made it clear to me that I'd have been a part of his plans," Ferdinand told reporters after he was unveiled at Loftus Road in London. "Things in football change quickly. A new manager came in and things went a different way. I made it clear at the time — Manchester United had to tell me they didn't want me for me to leave the club and that was always the way it was going to be. That's what happened at the end of the season. The club said thank you and goodbye. That happens in football. The club's bigger than any player and I'm happy to be here now."
Queens Park Rangers defender Rio Ferdinand, left, and manager Harry Redknapp pose for photographs at a press conference at QPR's training ground in Sipson, west London, England, on Monday.
Photo: AFP
Ferdinand said he is looking forward to a new challenge with Rangers and relishing a fresh start under Harry Redknapp, his first manager at West Ham United.
"I had various offers from different places in the world, but when Harry made the call it was easy. I started my career under him at West Ham, so this is a fairy-tale finish," he said. "I don't think I've got anything to prove to anyone. I love playing in the Premier League, and my competitive edge was an overriding factor in staying in this country and playing here."
"He's a class act on the field and off the field," Redknapp said of the veteran defender. "On the training ground he'll be a great role model for the young players — the way he trains and the way he conducts himself. He'll be great for the club."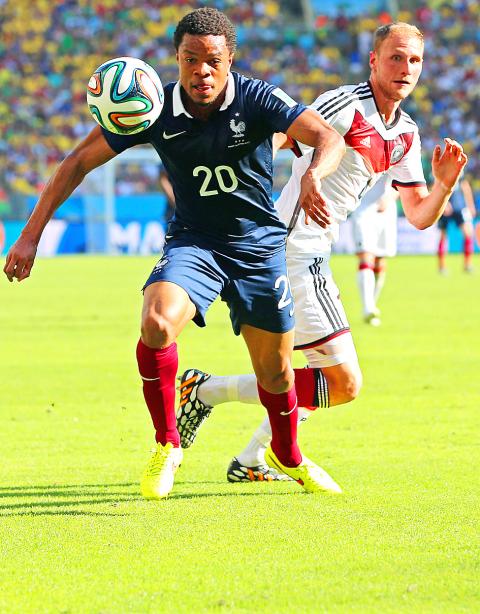 France's Loic Remy, left, battles for the ball with Germany's Benedikt Hoewedes in their FIFA World Cup quarter-final at the Maracana in Rio de Janeiro, Brazil, on July 4.
Photo: EPA
Former England captain Ferdinand is clear about Rangers' objectives in the Premier League after bouncing back up at the first attempt.
"We need to get points on the board as quickly as possible and hopefully after a successful season here we'll be staying in the Premier League," Ferdinand said. "Any team that comes up from the Championship, their main priority is to consolidate and stay in the Premier League. That's our goal for this season."
Meanwhile, Redknapp rejected suggestions that France international striker Loic Remy's transfer to Liverpool collapsed due to a failed medical.
"I don't see how he could have failed a medical," Redknapp told the BBC on Monday. "He had a stringent one here, one at [Olympique de] Marseille, and at Newcastle [United] and with France before the World Cup. You couldn't meet a fitter lad. There has to be another reason."
Remy, who scored 14 goals in 26 league appearances for Newcastle last season, will start the new Premier League season at QPR.
"Their loss is our gain — we've got a fantastic striker," Redknapp said. "I said last year he was capable of scoring 20 goals in the Premier League. That's what we now want him to do for us."
The 27-year-old joined Liverpool on their tour of the US to complete an £8.5 million (US$14.44 million) move, but the deal fell through on Sunday.
Liverpool manager Brendan Rodgers told reporters: "It's very simple — we have made a decision as a club not to go ahead with the deal. It's unfortunate for the player, but there's nothing more to be said."
Remy moved to QPR from Marseille in a club-record £8 million deal in January last year and joined Newcastle on a season-long loan in August last year following QPR's relegation to the Championship.
Comments will be moderated. Keep comments relevant to the article. Remarks containing abusive and obscene language, personal attacks of any kind or promotion will be removed and the user banned. Final decision will be at the discretion of the Taipei Times.