Bayern Munich go Green for US tour
Julian Green has been touted as the new face of US soccer, but it is one few Americans recognize.
That may change this week as the Bayern Munich 19-year-old wunderkind enters the spotlight during the Bundesliga champions' heavily promoted mini-tour of the US that features a meeting with Mexican club Club Deportivo Guadalajara in New Jersey tomorrow followed by a game versus the Major League Soccer All-Stars in Portland, Oregon, on Wednesday next week.
For a young man who has yet to earn a first team spot with talent-packed Bayern and played only a handful of minutes for the US in Brazil at the World Cup finals, Green arrives in his homeland burdened with great expectations having made an impression on the people who matter most.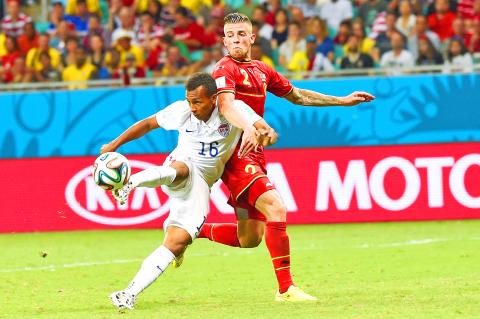 Julian Green of the US, left, scores past Belgium's Toby Alderweireld in their FIFA World Cup round-of-16 match at the Arena Fonte Nova in Salvador, Brazil, on July 1.
Photo: AFP
A sensational goal in a 2-1 round-of-16 loss to Belgium in Brazil underscored Green's considerable skill and rewarded US coach Juergen Klinsmann for putting his faith in him.
More importantly, Green's play has made an impact on Bayern boss Pep Guardiola, who says he expects the teenager to be with the club when the Bundesliga season begins.
"He stays with us," Guardiola said in a recent conference call to drum up interest for a tour that is being billed as the Audi Football Summit. "I think he's going to stay [the season], but we have to see how is the market, if one player is back or what players come in. We have time... my first idea is that he's going to stay for the rest of the season."
Getting on the field for a pair of pre-season friendlies is one thing, but earning regular-season minutes at a club that provided much of the talent for Germany's World Cup-winning squad will be another matter.
While Guardiola rates Green as a future star, there are some who believe Bayern would be better served by loaning out the young American this season and allowing him to develop his gifts rather than have him anchored to a star-studded bench as a reserve.
"The most important thing right now is FC Bayern. I want to play for Bayern and I don't think about a loan," Green said on Monday during a conference call. "The [US] national team, the next game is in September, and I am looking for to that, but right now it is just Bayern. Right now I am coming for FC Bayern, that is my home club and that is very special. I'm looking forward to play and show the people how good FC Bayern is."
With a squad loaded from front to back with celebrated names such as Franck Ribery, Arjen Robben, Bastian Schweinsteiger, Mario Goetze and Thomas Mueller, much of the world is already keenly aware of Bayern's quality.
What is of more interest is how good can Green, who came up through Bayern's development system and played for club's second team last season, become.
Is he the goal-scoring difference-maker the US lacks?
Green, who was born in Tampa, Florida, but raised in Germany since he was two years old and has dual citizenship, displayed a lethal finishing touch in Brazil, scoring against Belgium with his first touch to become the youngest American to score a goal at the World Cup finals.
"The goal was very special to me, it gave me a lot of confidence," said Green, who also became the youngest scorer in the tournament since Argentina's Lionel Messi. "Right now I just want to play soccer again after three weeks off and I am looking forward to play against my teammates from the national team. The World Cup was a great experience, at 19-years-old it is very important to have these experiences. It's good for me, but right now everything starts new."
Comments will be moderated. Keep comments relevant to the article. Remarks containing abusive and obscene language, personal attacks of any kind or promotion will be removed and the user banned. Final decision will be at the discretion of the Taipei Times.