Singaporean sentenced to jail in sex-for-fixing case
A Singaporean businessman was sentenced to three years in prison yesterday for providing prostitutes to three Lebanese soccer referees in an attempt to rig future matches.
Nightclub owner Eric Ding Si Yang, 32, was jailed on corruption charges following revelations that Singapore has become a center of gambling-linked match-fixing for matches as far away as Europe. He was found guilty on July 1 of bribing referee Ali Sabbagh, 35 and assistant referees Ali Eid, 34, and Abdallah Taleb, 38, before a match last year in Singapore.
District Judge Toh Yung Cheong said as he handed down the jail sentence that Singapore's reputation had been tarnished by the match-fixing.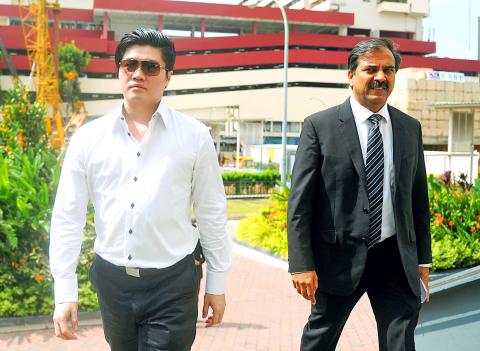 Singaporean businessman Eric Ding Si Yang, left, arrives with his lawyer at the state court in Singapore for sentencing yesterday.
Photo: AFP
He earlier ruled that the prosecution had proven beyond reasonable doubt that Ding offered the Lebanese match officials sexual services to "induce the three of them to agree to getting involved in match-fixing."
"The ultimate objective was to get the match officials to make decisions on the pitch that were incorrect in order to benefit the match-fixers," Toh said.
The three Lebanese were arrested in April last year before they could officiate at an Asian Football Confederation Cup match between Singapore-based club Tampines Rovers and India's East Bengal.
All three subsequently pleaded guilty.
Sabbagh was jailed for six months, while Eid and Taleb served three-month sentences.
When he convicted Ding on July 1, the judge dismissed as "far-fetched" the businessman's argument that he was not a match-fixer, but a freelance journalist with a local tabloid who had an "interest in writing about match-fixing."
State prosecutors had asked the court to hand down a stiff sentence of up to six years in jail and a maximum S$300,000 (US$242,000) fine.
"This court can show the international community our collective disdain for match-fixing with a severe sentence that would make a powerful and unambiguous statement that match-fixing and corruption in sport has no place in Singapore," prosecutors said in their written submission.
Prosecutors said they would appeal the sentence and seek a stiffer punishment for Ding, who in turn was seeking bail pending his own appeal.
The case is a colorful addition to Singapore's long history of match-fixing scandals. In September last year, Singapore police detained 14 people believed to be members of a global match-fixing syndicate, including the suspected mastermind Dan Tan.
Comments will be moderated. Keep comments relevant to the article. Remarks containing abusive and obscene language, personal attacks of any kind or promotion will be removed and the user banned. Final decision will be at the discretion of the Taipei Times.