Calls to axe Russia 2018 Cup grow
German politicians on Wednesday demanded that Russia be stripped of the right to host the 2018 FIFA World Cup for fueling the conflict in Ukraine, although soccer officials quickly rejected the idea.
Amid outrage over the downing of Malaysia Airlines Flight MH17 in Ukraine on July 17 by a suspected missile that killed all 298 people on board, lawmakers and commentators in Germany, Britain and the Netherlands are suggesting that another country host soccer's top-tier tournament.
Peter Beuth, interior minister of Germany's Hesse State, said that if Russian President Vladimir Putin does not get "actively involved in the investigation of the plane crash, then a 2018 World Cup is unimaginable in Russia."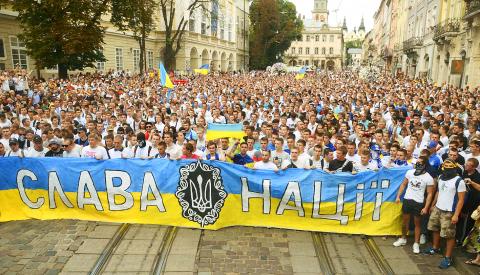 Dynamo Kiev and Shakhtar Donetsk fans on Tuesday take part in a march in Lviv, Ukraine, calling for a united nation. The banner reads: "Glory to the nation."
Photo: Reuters
Beuth, who heads Germany's conference of state sports ministers, called on soccer's world governing body FIFA to review the choice of host nation.
Senior conservative lawmaker Michael Fuchs said that Germany, along with France and Italy, could easily host the event instead.
"We have enough stadiums that are World Cup-ready," he said, adding that the boycott would hurt Russia more than economic sanctions.
Fellow conservative parliamentarian Stephan Mayer said that if Putin "does not relent and keeps fuelling the crisis, it must no longer be a taboo idea to take away from Russia the World Cup."
However, FIFA executive committee member Theo Zwanziger, a former German Football Association president, rejected the idea.
"Calls for a FIFA intervention always come very quickly. Sports boycotts have rarely achieved anything and that's why I think nothing of such a proposal," he told news site Handelsblatt Online.
A Berlin spokesman also dismissed the issue, saying the Cup "is still four years away. I think we have more pressing problems."
Meanwhile, in the Netherlands — 193 of whose citizens died in the MH17 crash — the Royal Dutch Football Association (KNVB) said that "during these black days" it was too early to discuss a boycott.
"Different people have asked the KNVB questions about [taking part in] the 2018 World Cup in Russia," a federation statement read. "We realize that a future World Cup in Russia will be very emotive for all football lovers and relatives of the dead in the Netherlands. The KNVB thinks that it is more appropriate for discussion about the future World Cup in Russia to be held at a later date, when the investigation of the disaster is completed."
In Britain, lawmaker Tracey Crouch, a member of the UK parliament's Culture, Media and Sport Select Committee, also said that "Russia ought to be stripped now... Football could be used to put pressure on President Putin to change some of his practices."
Yet English Football Association chairman Greg Dyke told a parliament hearing on Tuesday that "I don't think that you can make a decision based on one week's events without looking at the longer term."
The conflict in Ukraine has rocked the domestic soccer league, with Shakhtar Donetsk forced to shift their headquarters to Kiev and play their UEFA Champions League and domestic games in the western city of Lviv to escape the strife-torn east. Dnipro Dnipropetrovsk also announced on Wednesday that UEFA had ordered the first leg of their Champions League third qualifying-round tie against Danish side Copenhagen to be played in Kiev.
Ukrainian champions Shakhtar were forced to move from Donetsk, a stronghold of pro-Russia separatists fighting the government.
Shakhtar face a challenge to win support in western Ukraine and Palkin said they did not have the same level of support in Lviv as rivals Dynamo Kiev in their season-opener on Tuesday, which Shakhtar won 2-0.
However, Shakhtar yesterday caught a break when Brazil striker Fred returned to Ukraine, saying they expect his compatriot Ismaily to follow shortly.
The two Brazilians were among six South Americans who refused to return to Shakhtar from a friendly in France after the crash.
Comments will be moderated. Keep comments relevant to the article. Remarks containing abusive and obscene language, personal attacks of any kind or promotion will be removed and the user banned. Final decision will be at the discretion of the Taipei Times.