Donaldson lifts A's over Orioles
MAJOR LEAGUES
Oakland's Josh Donaldson hit a three-run homer in the bottom of the ninth inning to give the Athletics a stunning 5-4 victory over Baltimore on Friday as Major League Baseball resumed after the All-Star break.
The majors-leading A's picked off right where they left off before the break and maintained their 1.5 game divisional lead over the Los Angeles Angels, who prevailed in a 16-inning marathon against Seattle.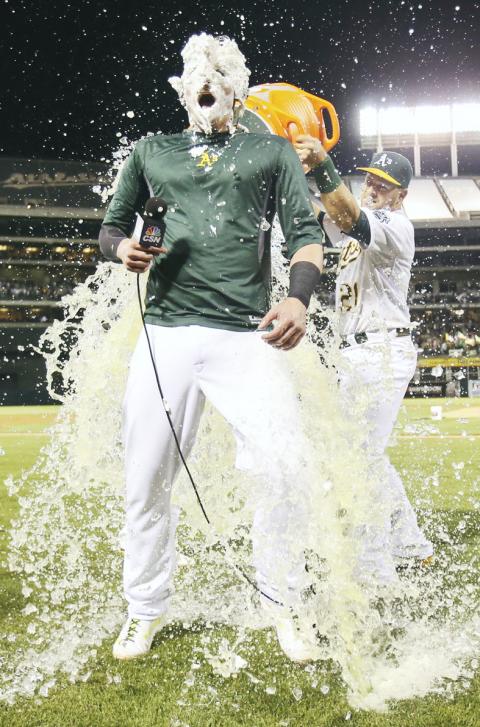 Oakland Athletics catcher Derek Norris, back, and first baseman Stephen Vogt, right, dump a sports drink on third baseman Josh Donaldson after he hit a three-run homer for the win against the Baltimore Orioles in Oakland, California, on Friday.
Photo: Kelley Cox, USA TODAY
In the key National League meetings, Matt Holliday was the difference as St Louis edged the Los Angeles Dodgers, and Milwaukee reclaimed a narrow overall lead in the NL by defeating Washington.
Baltimore got two-run homers from Jonathan Schoop and Manny Machado in the fifth and seventh innings respectively to be on course for a win at Oakland, before Donaldson snatched the win for the A's with his three-run shot.
Donaldson's drive over the wall in center field off Zach Britton (3-2) was his fifth career game-ending hit and third career game-ending homer.
Eric O'Flaherty (1-0) tossed one scoreless inning for the win, Oakland's major league-leading 60th of the season (60-36).
Los Angeles' Efren Navarro singled home a run with two outs in the 16th inning to give the Angels a hard-fought 3-2 win over Seattle.
Dominic Leone (2-2), the eighth Mariners pitcher, gave up a one-out double to Mike Trout in the 16th and intentionally walked Josh Hamilton with two outs. Herrera came in as a pinch-hitter and stroked the first pitch up the middle to score Trout and end the game.
After the 10th inning, the Angels announced they had acquired star closer Huston Street from San Diego in a multiplayer deal.
St Louis' Holliday homered, doubled and drove all his team's three runs as the Cardinals beat the Dodgers 3-2.
Holliday's homer, estimated at 133m to straightaway center, came off Dan Haren (8-7).
Cardinals' starter Lance Lynn (11-6) won his third straight start, giving up two runs in six-plus innings.
Milwaukee's Scooter Gennett and Khris Davis homered to help the Brewers win 4-2 at Washington.
Aramis Ramirez added a two-run single for the Brewers, who took back the overall NL lead while dropping Washington a game behind leader Atlanta in the NL West.
Milwaukee starter Kyle Lohse (10-4) pitched seven strong innings, giving up 10 hits, but only one run as the Nationals went one-for-10 with runners in scoring position.
Cleveland piled on seven runs in the seventh inning to overrun Detroit and win 9-3.
Jason Kipnis hit a tiebreaking, three-run homer, and Asdrubal Cabrera sent the next pitch over the right-field fence to cap the scoring surge.
Kipnis hit another home run, a solo shot, in the Indians' two-run ninth.
New York's Jacoby Ellsbury hit a two-run homer that helped the Yankees defeat Cincinnati 4-3.
Brian McCann and Carlos Beltran both had two-out RBIs for the Yankees, who began a 10-game homestand.
New York starter David Phelps (4-4) gave up two earned runs in 6-1/3 innings against a lineup missing injured thumpers Joey Votto and Brandon Phillips. He struck out seven and walked only one.
San Francisco's Pablo Sandoval hit a three-run homer off one of his favorite pitchers, powering the Giants to a 9-1 win over Miami.
Sandoval's homer ended Nathan Eovaldi's night in the Giants' five-run fifth inning. Sandoval improved to 8 for 11 against Eovaldi (5-5) with nine RBIs.
San Francisco starter Madison Bumgarner (11-7) allowed only one run in six innings, sending the Marlins to a fifth-straight loss.
Atlanta's Jason Heyward homered and drove in two runs as the Braves defeated Philadelphia 6-4.
Andrelton Simmons had two RBIs for the Braves, who did enough in a game played in a steady drizzle.
Atlanta's third-straight win put the Georgian club back atop the NL East.
Boston's Jonny Gomes hit a go-ahead two-run homer in the sixth to help the Red Sox edge Kansas City 5-4.
Pittsburgh's Travis Snider hit an RBI double in the eighth inning to lift the Pirates to a 4-2 win over Colorado.
Tampa Bay's Ben Zobrist homered and Evan Longoria had three RBIs to lead the Rays past Minnesota 6-2.
Texas' J.P. Arencibia hit a three-run homer against his former team as the Rangers defeated Toronto 5-1.
New York's Travis d'Arnaud came up with the go-ahead single in the ninth inning to lift the Mets to a 5-4 victory over San Diego.
Chicago's Tyler Flowers broke out of a hitting slump with a seventh-inning double that put the White Sox ahead and en route to a 3-2 win over Houston.
Arizona's Paul Goldschmidt homered, while Didi Gregorius had a pair of RBI singles in the Diamondbacks' 5-4 win over the Chicago Cubs.
Comments will be moderated. Keep comments relevant to the article. Remarks containing abusive and obscene language, personal attacks of any kind or promotion will be removed and the user banned. Final decision will be at the discretion of the Taipei Times.