WORLD CUP: ALFREDO DI STEFANO: Spain mourns passing of soccer legend Di Stefano
Real Madrid legend Alfredo di Stefano, considered of the greatest soccer players of all time, died in a Spanish hospital on Monday aged 88, drawing tributes from around the sporting world.
A hero of the all-conquering Real sides of the 1950s and 1960s, the striker known as the Saeta Rubia, "Blonde Arrow," is ranked alongside Pele, Maradona and Johan Cruyff, even though, unlike them, he missed out on FIFA World Cup glory.
Announcing his death on Monday, Real Madrid praised the Argentina-born Di Stefano, who was the club's honorary president, "the best player of all time."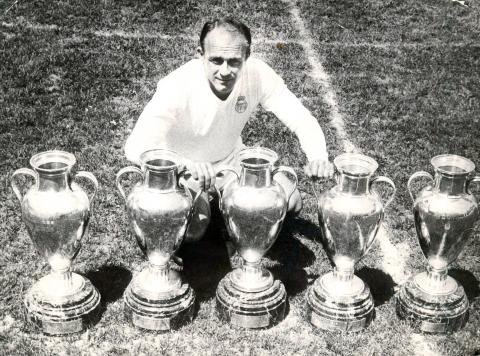 Real Madrid legend Alfredo di Stefano of Argentina poses with the five European Champions Cup trophies that he helped the La Liga club win at the now-defunct Estadio Chamartin in Madrid on May 25, 1960.
Photo: EPA
All of Spain mourned the Blonde Arrow yesterday, paying homage to the player who inspired millions of fans during the isolation of the Franco era. As Di Stefano's body lay in state at Real's Estadio Santiago Bernabeu, the press lavished praise on the man they called a "genius" and a "legend."
Leading sports daily Marca yesterday left its cover almost entirely white, except for a small black-and-white photograph showing the back of a departing Di Stefano wearing his No. 9 shirt, his hand waving high in the air as if saying farewell, and his dates of birth and death below.
The paper urged Real to withdraw the No. 9 shirt in Di Stefano's "eternal honor."
The director of rival sports daily AS, Alfredo Relano, said Di Stefano's exploits on foreign fields gave Spain pride in the 1950s, during the rule of General Francisco Franco.
"In the poor, isolated, aged and introverted Spain of the second half of the 1950s, there was something to hang on to: Real Madrid, the European Cup, those remote games in Belgrade, Vienna, Brussels, Glasgow," Relano said.
"Alfredo di Stefano changed the history of this club and he changed the history of football," Real chairman Florentino Perez told a news conference on Monday. "He has left us, but his legend will live forever."
Di Stefano went into a coma after suffering a heart attack on Saturday at a restaurant near the Bernabeu in the Spanish capital.
He died on Monday at 5:15pm at the Hospital Gregorio Maranon, Real said in a statement.
Di Stefano had been hospitalized for similar episodes before and underwent emergency quadruple heart by-pass surgery after a heart attack in 2005.
A player capable of disorienting dribbles, pinpoint passes and a lethal threat in front of goal, Di Stefano combined technical and tactical skill with an irrepressible spirit.
A match without goals "is like a Sunday without sunshine," went one of his best-known sayings.
He was a two-time European Footballer of the Year in 1957 and 1959, but never made it to the finals of a World Cup.
Argentina did not play in the 1950 and 1954 finals and having obtained Spanish citizenship in 1956, Di Stefano missed out on the 1958 finals after La Roja failed to qualify. Spain reached the 1962 tournament in Chile, but injury prevented Di Stefano, then 35, from taking part.
He was one of Real Madrid's most celebrated players, representing Los Blancos for 11 seasons between 1953 and 1964. He helped Real end a 21-year wait for the title in his first season and added a further seven league crowns.
However, it was on the European stage that Di Stefano truly cemented his status as one of the game's greats, as he helped Real win the first five editions of the predecessor to the UEFA Champions League between 1956 and 1960, a record that stands to this day.
Perez said Di Stefano's body would lie in state at the Bernabeu, as the deceased requested.
"This stadium was his factory, his sacred ground, his home and his life," Perez said.
Comments will be moderated. Keep comments relevant to the article. Remarks containing abusive and obscene language, personal attacks of any kind or promotion will be removed and the user banned. Final decision will be at the discretion of the Taipei Times.