WORLD CUP: Ronaldo aiming to defeat Ballon d'Or curse at World Cup
When Portugal star Cristiano Ronaldo was awarded last year's FIFA Ballon d'Or, he naturally had plenty of cause to celebrate, although one could forgive him for feeling apprehensive about his country's hopes at the upcoming FIFA World Cup in Brazil.
Portugal head to the tournament as dark horses heavily reliant on captain and talisman Ronaldo, who will need to defy the odds if he is to avoid becoming another footnote in a cautionary tale.
Since the inception of the Ballon d'Or — conceived by France Football in 1956 to recognize Europe's and then later the world's most outstanding player of the year — of the 14 players holding prize heading into a World Cup, none have won the title.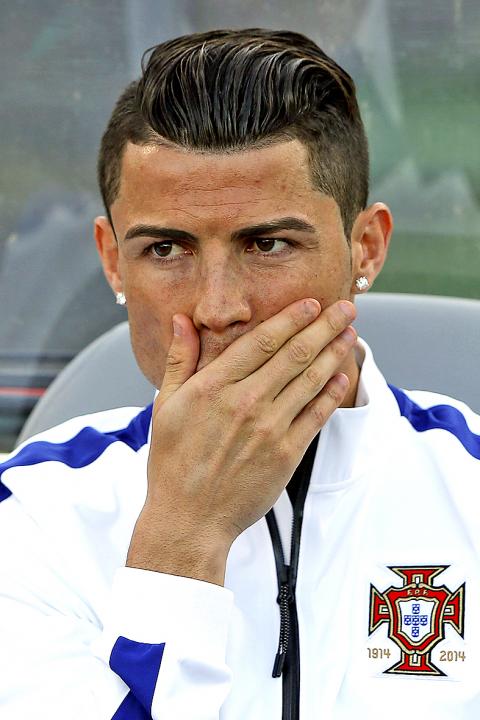 Portugal striker Cristiano Ronaldo watches his team play Greece in a friendly on Saturday in Lisbon.
Photo: EPA
Granted, the facts are skewed to an extent, given that only European players were eligible for the honor prior to 1995, ruling out the likes of three-time World Cup winner Pele and Diego Maradona, but that still leaves plenty of examples.
Take Barcelona star Lionel Messi, who won the first of his four consecutive Ballon d'Ors in 2009. An Argentina side with a surplus of attacking riches breezed through to the quarters at the 2010 World Cup in South Africa, despite Messi not contributing a single goal. However, when they needed him most he was unable to deliver and Maradona's shell-shocked team were torn apart by Germany 4-0 in the last eight.
That story dates back to 1957 when Ballon d'Or recipient and Real Madrid legend Alfredo di Stefano, playing for Spain in the 1958 Cup, failed to reach the finals, leaving one of the world's greatest players to end his career without playing a World Cup.
Perhaps no player has come quite as close to breaking the jinkx as Italy's Roberto Baggio in the 1994 US tournament.
Baggio netted five goals in the knockout rounds to send the Azzurri into the final against Brazil. Yet after a goalless 120 minutes, the Juventus forward blazed a penalty over the bar in the shootout to hand Brazil the title.
Before that, Dutch icon Johan Cruyff seemed most likely to end the curse in 1974. The Netherlands seemed destined to win after a penalty put them ahead of West Germany. However, they came unstuck and eventually lost 2-1.
Italy's Gianna Rivera (1970), West Germany striker Karl-Heinz Rummenigge (1982) and Brazil forward Ronaldo (1998) also fell a win shy of the Ballon d'Or-World Cup double.
Comments will be moderated. Keep comments relevant to the article. Remarks containing abusive and obscene language, personal attacks of any kind or promotion will be removed and the user banned. Final decision will be at the discretion of the Taipei Times.