Chelsea legend Lampard ends 13-year spell at club
Chelsea will have a massive void to fill in midfield next season after the Premier League club's all-time record goalscorer Frank Lampard on Monday announced the end of his 13-year spell at Stamford Bridge.
The England international, who joined the Blues from London rivals West Ham United in 2001 for £11 million (US$18.43 million), scored 211 goals in all competitions for Chelsea.
"Whatever the next challenge is for me I will always be amongst you and have Chelsea in my heart," Lampard told the club's fans in a statement. "Hopefully, I will get to see you all soon to say goodbye properly. In the meantime, thank you for the memories and keep making history."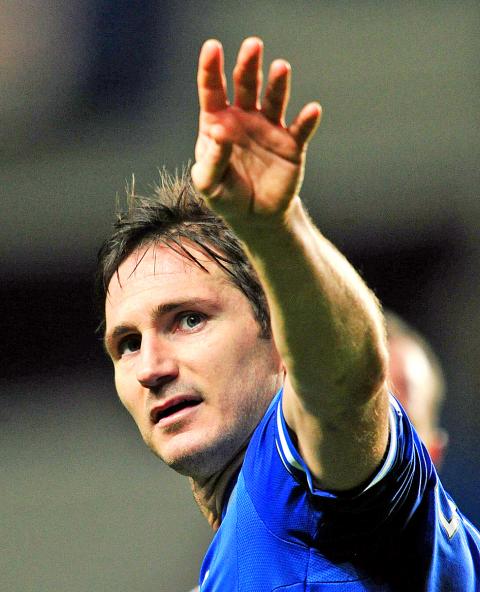 Former Chelsea midfielder Frank Lampard waves to fans after winning their FA Cup match against Stoke City at Stamford Bridge in London on Jan. 26.
Photo: AFP
Lampard, who turns 36 on June 20 and will be England's vice captain at the FIFA World Cup in Brazil this month, is out of contract and has been linked with a move to new Major League Soccer franchise New York City.
The New York club earlier on Monday announced that they have signed Spain forward David Villa on a three-year deal from Atletico Madrid.
Lampard has won three Premier League titles, four FA Cups, two English League Cups, the Europa League and the Champions League with Chelsea.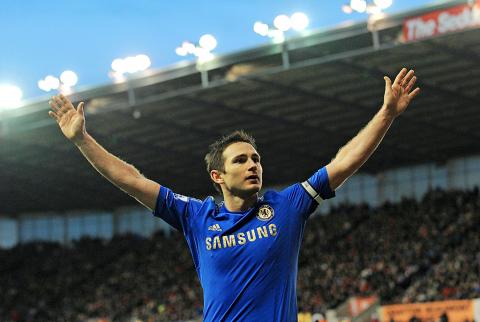 England's Frank Lampard celebrates scoring for then-club Chelsea in their Premier League tie against Stoke City in Stoke-on-Trent, England, on Jan. 12 last year.
Photo: AFP
"When I arrived at this fantastic club 13 years ago, I would never have believed that I would be fortunate enough to play so many games and enjoy sharing in so much success," he said in the statement.
"This club has become part of my life and I have so many people to thank for the opportunity. Firstly, [former chairman] Ken Bates, who put his neck on the line to sign me as a young player and without him I would not have even begun this experience. Roman Abramovich, the man who saved our club and took us all to new levels. His desire to push the club to the top of the football world has rubbed off on everyone," he added, referring to the Russian billionaire who bought the club in 2003.
Lampard was brought to Chelsea by former manager Claudio Ranieri and struggled to prove his worth in his first season at Stamford Bridge.
However, the Londoner started to blossom by his second campaign and it was his two goals against the Bolton Wanderers during current manager Jose Mourinho's maiden season in charge in 2004-2005 that sealed the club's first top-flight title in 50 years.
By then, Lampard had turned into the modern-day version of 1966 World Cup winners England's Bobby Charlton, with a penchant for spectacular long-range goals.
Chelsea won the Premier League again in 2006 and it was Lampar's pass to Didier Drogba that set up the only goal in their 2007 FA Cup final victory over Manchester United at London's Wembley Stadium.
Lampard, vice captain to skipper John Terry, flourished under Mourinho, but the midfielder's insatiable thirst for goals continued even after the Portuguese left in September 2007.
The England international, who has won 103 caps for his country, claimed the domestic league and cup double with the Blues under Italian Carlo Ancelotti in 2010.
However, the crowning glory of his days in the royal-blue No. 8 shirt came in Munich in May 2012. With Terry missing because of suspension, Lampard hoisted the Champions League trophy aloft after Chelsea beat Bayern Munich in a penalty shootout in the Bundesliga team's Allianz Arena.
He was also captain when Chelsea beat SL Benfica 2-1 in last year's Europa League final, with Terry this time sidelined by injury.
Earlier that season, Lampard went past Bobby Tambling's club record tally of 202 goals when he struck twice in the Blues' 2-1 Premier League victory at Aston Villa.
"He achieved everything with Chelsea," former midfield partner Michael Ballack told Sky Sports.
"He's a legend there and also for England. I think he has had a lot of offers so he can choose what he wants. He's experienced enough to make the right decision now," the ex-Germany international added.
Ballack said he thinks Lampard could one day return to Chelsea as a member of the coaching staff.
"Maybe he leaves just for a few years and then he can come back," Ballack said. "He's really well connected with Chelsea and there will always be a place in the future there for him."
Chelsea lauded Lampard as "one of the very greatest players to have represented the club," saying in a statement that: "Any Chelsea supporter who has had the good fortune to watch 'Super Frank' Lampard in full flow will know we have never seen his like in our midfield before and we will be very blessed to again see his equal."
"Lampard has not yet announced his destination but all at Chelsea wish him every success for the future," the club said.
Comments will be moderated. Keep comments relevant to the article. Remarks containing abusive and obscene language, personal attacks of any kind or promotion will be removed and the user banned. Final decision will be at the discretion of the Taipei Times.