'Gut' tells Wilkinson this year is right time to go
Jonny Wilkinson said a "loud and pretty true gut feeling" had told him now was the right time to bring down the curtain on a brilliant career.
For a player renowned for his methodical preparation and attention to detail, it seemed strange that such an old-fashioned thing as "gut instinct" should be the spark for the England great's announcement on Monday.
The 2003 World Cup winner, 35 on Sunday, said he had been thinking of retiring for some time.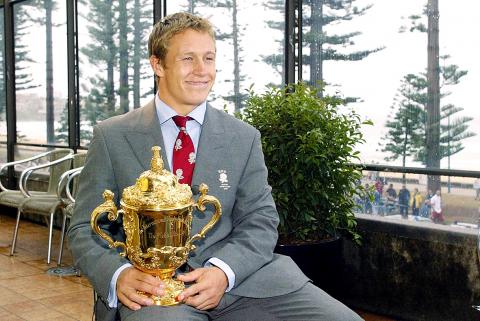 Former England flyhalf Jonny Wilkinson holds the rugby World Cup on Nov. 23, 2003, in Manly, Australia, after his team beat Australia in the final. Wilkinson announced on Monday that he will retire after Toulon's European and French Cup finals.
Photo: AFP
Now he has just two games left before he bows out of rugby union, with the outside-half trying to help Toulon retain the European Cup they won last season against Saracens in Saturday's final in Cardiff before their French Top 14 final clash with Castres on May 31.
"I have been thinking about it throughout the year, and now is the right time and right feeling," Wilkinson said in a conference call from Toulon with British reporters on Monday. "I also know that I want to get it completely out of the way so that we focus more than ever on these two games. It's a weight off my shoulders, to be honest. It has just been a gut feeling thing, and the gut feeling is loud and pretty true right now."
Wilkinson had long been tipped to retire at the end of this season, but England's record points-scorer, still second on the all-time list to New Zealand Dan Carter, said he still felt nervous in walking away from the only job he has known.
"There is a huge amount of fear for anybody who is going into an area to which they are not accustomed," said Wilkinson, whose drop-goal won England the 2003 World Cup final. "Having been playing rugby since the day I left school and having never had a proper job, I think this leaves me a bit unprepared in terms of what comes next. But at the same time I am seeing that as a positive step next in which everyone has to make."
"Everyone thinks they can carry on forever, but it is becoming ever more apparent when you see the size of the guys running alongside you — and at you — that it is ultimately a younger man's sport and reserved for those that have their future ahead of them, and not mine," he said.
Toulon coach Bernard Laporte said on Monday that Wilkinson would be joining the club's backroom staff, although the player himself indicated a preference for working on individual skills.
"I would love to have an opportunity to work on skills and to really try to maximize the ability of the team by working individually on a one-on-one basis," Wilkinson said. "That is kind of where I would love to spend my time in rugby, certainly initially. I would love to try to get the best out of everyone."
Before any of that Wilkinson said he would be concentrating solely on helping Toulon record a European and domestic "double."
"With these two big games, preparation is paramount," he said. "We must make sure, having spent so much time and having gone through so much, that we perform and give ourselves the best chance. Everything has always felt so damned important anyway. For me, rugby has always been a life or death thing, and I don't think that is going to change coming to the end of it all. The best way to go out, I think, is trying at least to show everything that is good about yourself."
Following Wilkinson's announcement, there were numerous tributes from rugby's great and good, including one from Springbok wing Bryan Habana.
An opponent while playing for South Africa, Habana has come to know Wilkinson as a teammate at Toulon.
"It's been a great honor and privilege to play with him, he's one of the most professional players I've known and one of the most humble," Habana told reporters in Toulon. "After everything he's been through, everything he's done, he deserves to go out of the game in style."
Comments will be moderated. Keep comments relevant to the article. Remarks containing abusive and obscene language, personal attacks of any kind or promotion will be removed and the user banned. Final decision will be at the discretion of the Taipei Times.