Women look to improve soccer in South America
After a long time on the soccer sidelines, more South American women are striking back by lacing up their boots and embracing the region's most cherished sport.
Machismo is losing some of its influence in large parts of the area, while women gain ground in politics and the workplace. And as South America changes, so does soccer.
"As a kid I was the only girl on the block to play. It used to be almost disgraceful for a woman," said Daniela Pardo, now the 25-year-old captain of the Chile women's team, as she took a breather during practice.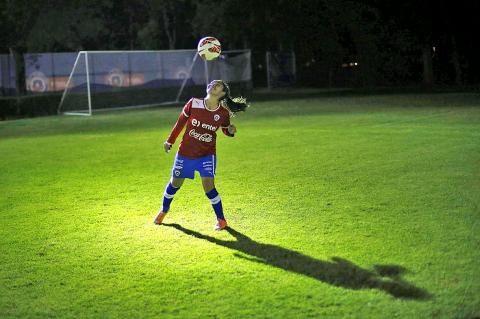 Chile women's soccer captain Daniela Pardo heads a ball during training in Santiago on May 14.
Photo: Reuters
"There's been an incredible change. Now it's seen differently, like something that can help women gain independence. I've become a role model for young girls in my neighborhood," said Pardo, a midfielder who hails from the poor area of San Ramon in Santiago.
South American women are playing more and playing better, paving the way for them to become a force to be reckoned with on the global soccer stage.
The evidence is more anecdotal than factual. Several FIFA officials told reporters they had no current figures, though they concurred that the women's game is flourishing in the region counting down to next month's men's World Cup in Brazil.
The surge is part of a global boom, with an estimated 29 million women and girls playing worldwide. It is especially salient for South America, a region revered for the game and infamous for its machismo.
While Brazil originally blazed the trail, women's teams in Argentina, Chile, Colombia and Venezuela are starting to give the soccer powerhouse a run for its money.
"Female soccer is an explosion. It's an obsession, a passion, a fever now," said Felipe Taborda, who coaches the Colombia women's team.
He estimates that up to 70 percent more women are playing in the Andean country compared with 2007 levels.
At a Santiago soccer school on a crisp Sunday morning, dozens of girls aged five and up practiced dribbling, their pony-tailed hair whipping about as they bounded after the ball.
Javiera Paves, a grinning 10-year-old who was just two when she started practicing passes with her soccer coach father, says she would like to win the World Cup for Chile.
And with more school teams, leagues and homegrown superstars such as Brazilian striker Marta, girls like Javiera are allowing themselves to think big.
"To get to watch the World Cup in Brazil and live such a huge emotion, even from the stands, will encourage all of us to go after the same dream in the future," said 28-year old Marta, a five-time women's world player of the year, in a recent FIFA video.
While South American men have been crowned World Cup champions nine times, the region's women have yet to raise the coveted trophy.
The US, Germany, Japan and Scandinavian countries usually scoop up the winners' medals, but South American teams are training hard to make a splash in September at the Copa America in Ecuador, where two-and-a-half berths for next year's Women's World Cup in Canada are up for grabs.
"I hope we can qualify ... and then why not win?" said Yusmery "Miku" Ascanio, a 23 year-old Venezuelan midfielder who like many of her compatriots grew up swinging a bat before soccer lured her away from baseball.
Soccer remains low on the priority list for many women in a region still plagued by high levels of domestic and sexual violence.
And while sociological barriers to soccer may be receding, athletes warn that economic ones are alive and well.
National squads and clubs generally do not pay their female players, which often obliges them to keep full-time jobs on the side, leaving little time for much else.
"We play female soccer out of passion, not for fame or money," Venezuela's Ascanio added.
Mainstream media seldom cover games, and stadiums are often uncomfortably empty. That in turn discourages potential sponsors, setting up a vicious cycle.
"Here in South America there are very good players, but no one knows them," said Estefania Banini, a 23-year old Argentine midfielder nicknamed "the female Messi" due to her adroit dribbling and enviable goal tally.
"I support soccer, any type of soccer. The world comes to a halt for me during the men's World Cup. I just wish female football had the same level of support," Banini added, minutes before going on to score five goals for Chile's Colo-Colo, considered one of the region's top female clubs alongside Brazil's Santos and Sao Jose.
The silver lining to these obstacles, coaches say, is that the women who persist are utterly devoted to the game.
"We abandon everything for this, at times in exchange for nothing. I left behind a lot, but I've never regretted it," said Chile captain Pardo, who studies graphic design in the mornings, works an administrative job at a men's soccer club in the afternoons and races to practice in the evenings.
"It thrills me. I feel things when I kick a soccer ball. People should believe in us," she added, before sprinting back out on to the field.
Comments will be moderated. Keep comments relevant to the article. Remarks containing abusive and obscene language, personal attacks of any kind or promotion will be removed and the user banned. Final decision will be at the discretion of the Taipei Times.