West guides Pacers to showdown with Heat
David West delivered his strongest game of the playoffs with 29 points to help guide the Indiana Pacers into the NBA Eastern Conference finals with a series-clinching 93-80 Game 6 win over the Washington Wizards on Thursday.
The veteran power forward was in an aggressive mood from the opening tip-off, taking 26 shots and sparking a fourth-quarter surge that helped the Pacers advance from the best-of-seven series with a 4-2 victory.
The top-seeded Pacers' next challenge starts tomorrow with a home Game 1 encounter with two-time defending NBA champions the Miami Heat.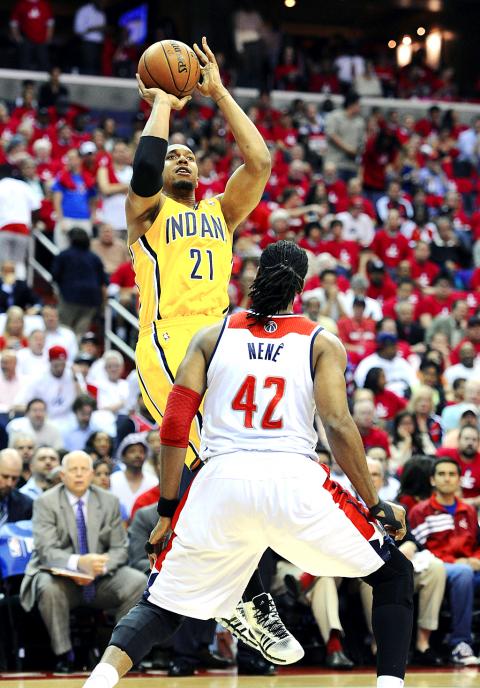 Indiana Pacers power forward David West, rear, shoots over Washington Wizards power forward Nene in the first half of Game 6 of their second-round NBA playoff series at the Verizon Center in Washington on Thursday.
Photo: Brad Mills-USA Today
The Pacers will be hoping to make it third time lucky against the Heat after losing to Miami at the same stage in the past two seasons, with West confident of success this time around.
"We've got home court [this time], which is a good start," West told reporters. "We know who they are, they know who we are. It's going to come down to the details."
Feeding off their home crowd, the Wizards threatened to force a Game 7 when they rallied to take a 74-73 lead with about eight minutes remaining, but West calmly sank two straight jump-shots and the Pacers closed the game with a 20-6 run.
"David has a way of settling our young guys and riding the waves in a game," Indiana coach Frank Vogel said. "He made a couple [big] buckets. We're lucky to have David West."
Lance Stephenson added 17 points and eight assists for the visitors.
Marcin Gortat scored a team-high 19 points for the fifth-seeded Wizards, who can hold their heads high after ending a six-year playoff absence with a first-round victory over the Chicago Bulls and causing the Pacers plenty of problems.
The underdog Wizards won the opening game of the series, then lost three straight. Facing elimination in Game 5 in Indiana on Tuesday, Washington stunned the Pacers with a 23-point rout to extend the matchup.
On Thursday, the Wizards fell 16 points behind in the third quarter, but fought back to put the Pacers on their heels.
"Nobody thought we'd be this far," said Washington second-year guard Bradley Beal, who finished with 16 points and led the team in scoring for the post-season.
"For us to believe in ourselves and make Indiana earn it, we should be proud of ourselves," he said.
Comments will be moderated. Keep comments relevant to the article. Remarks containing abusive and obscene language, personal attacks of any kind or promotion will be removed and the user banned. Final decision will be at the discretion of the Taipei Times.