Westbrook leads Thunder to dramatic victory over Clippers
Oklahoma City's Russell Westbrook scored 38 points and made three free-throws with 6.4 seconds remaining as the Thunder overcame a seven-point deficit in the final 50 seconds to beat the Los Angeles Clippers 105-104 on Tuesday to go up 3-2 in the Western Conference semi-finals.
The dramatic finish in Oklahoma was a marked contrast to the day's other game, in which Washington cruised to a 102-79 win over Indiana to stay alive in their series, cutting the deficit to 3-2.
Westbrook was fouled by Chris Paul while shooting a three-pointer with the Thunder trailing by two. After his free-throws, Paul drove to the hoop, but Reggie Jackson stole the ball from him and time expired.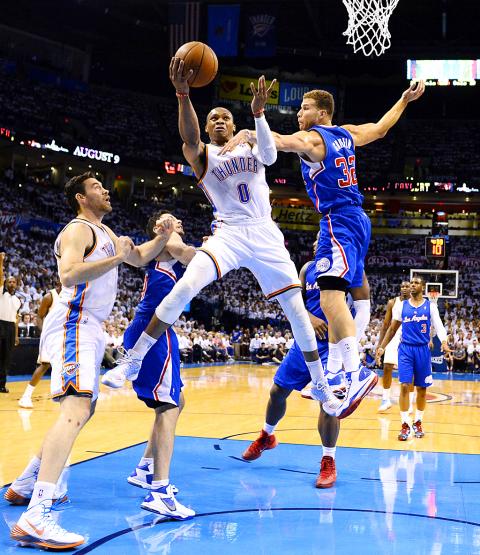 The Los Angeles Clippers' Blake Griffin, top right, defends against the Thunder's Russell Westbrook, third left, during their semi-finals Game 5 in Oklahoma City on Tuesday.
Photo: EPA
Kevin Durant scored 10 of his 27 points in the final 3 minutes, 23 seconds for the Thunder.
Blake Griffin had 24 points and 17 rebounds, Jamal Crawford scored 19 points, and Paul had 17 points and 14 assists for the Clippers.
The Thunder can clinch the series today in Los Angeles.
The Clippers took a 101-88 lead in the fourth quarter on a three-pointer by Crawford before Durant finally got involved. He hit a three-pointer with 3:23 remaining on his first shot of the quarter, then drained two free-throws to cut the Clippers' lead to 101-95.
A layup by Jackson cut Los Angeles' lead to four.
Griffin made the first of two free-throws and the Clippers took the offensive rebound on the second, enabling Paul to hit a mid-range jumper which gave the Clippers a 104-97 edge with 49 seconds to play.
Durant made a three-pointer and soon after a layup with 17 seconds left. Westbrook stole the ball and in a scramble the Thunder got possession with 11.3 seconds to play, setting up Westbrook's play.
The Thunder fell behind by 15 points in the first quarter, but rallied in the second as foul trouble set in for the Clippers.
Meanwhile, Washington's Marcin Gortat scored 31 points and had 16 rebounds, and John Wall added 27 points as the Wizards used a 39-rebound advantage to rout Indiana.
Washington can level the series at home today in Game 6.
It was a stunning turnaround for a team that had lost the last three. However, with Gortat matching a career-high in points and posting a playoff career-high in rebounds, Washington held a 62-23 rebounding edge.
David West scored 17 points for Indiana.
Washington used a 15-6 run to take a 45-38 halftime lead.
Washington denied the top-seeded Pacers a spot in the conference finals, for now, and improved to 4-2 on the road in this year's playoffs.
Gortat and Wall combined for eight of the Wizards' first 10 points, and they were strong enough inside to fend off a brief Indiana scoring flurry to make it 25-19 at quartertime.
Indiana charged back early in the second. Luis Scola scored the first five points, topping Indiana's entire bench total from Game 4, and took a 27-25 lead when Paul George knocked down a three-pointer with 9:49 to go.
It was all Wizards after that.
Comments will be moderated. Keep comments relevant to the article. Remarks containing abusive and obscene language, personal attacks of any kind or promotion will be removed and the user banned. Final decision will be at the discretion of the Taipei Times.