South Korea's trailblazing Park retires
'NO REGRETS': Park Ji-sung yesterday drew the curtain on a career that saw him playing in three World Cups and a UEFA Champions League final — the first Asian to do so
South Korea's former Manchester United star Park Ji-sung announced his retirement yesterday, ending a trailblazing career that made him Asia's most decorated player.
Park, 33, said a long-running knee problem had finally forced him out of a sport in which he reached the 2002 World Cup semi-finals and became the first Asian to play a Champions League final.
The last game for the industrious and versatile midfielder was on May 3 for Dutch club PSV Eindhoven, where he had been on loan from Queen's Park Rangers (QPR) in the English Championship.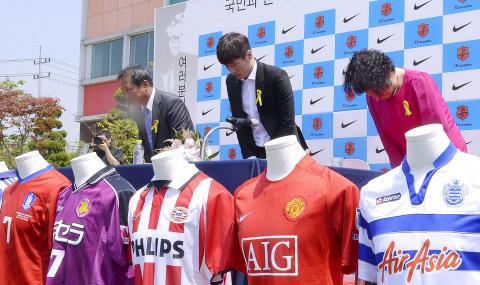 South Korean soccer player Park Ji-sung, center, and his parents bow during a news conference yesterday to announce his retirement in Suwon, South Korea.
Photo: Reuters
"I've come to the conclusion that I cannot go on any longer," Park told a press conference in his hometown Suwon, about 45km south of Seoul.
"Because of my weak knee, I don't think I could last another season," he added.
Park underwent a major operation on his right knee in 2007 that kept him out of the game for eight months and the joint continued to give him trouble for years afterwards.
"I have no regrets about my career," he said. "I do think about what might have been if I hadn't been injured, but I have no feelings of disappointment or sorrow as I leave the sport."
His retirement ends a circular European adventure that started at PSV, before he joined Manchester United in 2005 and became the first Asian winner of the UEFA Champions League in 2008.
Park missed that Champions League final against Chelsea, but the following year he became the first Asian to play the European title match when United lost 2-0 to Barcelona.
Park, the first South Korean to play in the English Premier League, also picked up four league titles in a seven-year stint in which he became a favorite lieutenant of former Manchester United manager Alex Ferguson.
Ferguson once said that leaving Park out of the squad for the 2008 Champions League final was one of the hardest decisions of his managerial career.
Park left Old Trafford, where he was known on the terraces as "Three-Lung Park" because of his high work rate, in 2012 after 203 appearances and 27 goals.
However, the move to a rebuilding QPR proved ill-fated and the London club were relegated from the Premier League last year.
Park also played in three straight World Cups starting in 2002, when co-hosts South Korea made history with a shock run to the semi-finals, the best performance by an Asian team.
He is fondly remembered in that tournament for scoring the winner in the 1-0 victory over Portugal, which took South Korea into the knockout stages for the first time.
He ended up winning 100 international caps and scoring 13 goals for his country.
Asked to rate his own career yesterday, Park gave himself a modest seven out of 10.
"I wasn't perfect," he said.
Park has never shown any great inclination to move into coaching, but he hinted that he could take on an "administrative" role.
More immediately, Park said he would be getting married in July to former TV presenter Kim Min-ji.
Park began his career in South Korea with a university side, before moving to Japan to play with Kyoto Sanga in the J-League.
The manager of the national side for the 2002 World Cup was the Dutch coach Guus Hiddink. When Hiddink moved back to the Netherlands to manage PSV Eindhoven, Park followed him to the Dutch side a year later.
PSV reached the semi-finals of the 2005 UEFA Champions League and it was at that time that Park was noticed by Ferguson, who brought him to Manchester United the same year.
Comments will be moderated. Keep comments relevant to the article. Remarks containing abusive and obscene language, personal attacks of any kind or promotion will be removed and the user banned. Final decision will be at the discretion of the Taipei Times.