FEATURE: Beijing to Bieber: Table tennis extends reach
Table-tennis bosses fear China's dominance is potentially ruinous, but the sport's new street cred, a kaleidoscope of participating countries and its capacity for diplomacy underline its broad reach and potential.
At the world team championships in Tokyo, Japan, which ended on Monday, more than 800 players took part, aged from 12 to 55 and from countries ranging from notorious trouble spots to honeymoon havens.
Amid the constant click-clack of balls, Ukrainians and Russian players maintained friendly relations, North and South Koreans practiced together and Palestinians played a few feet away from the Israeli team.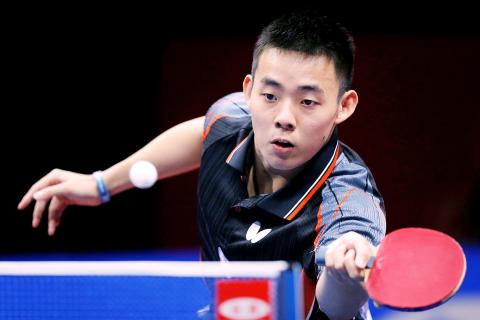 Chen Chien-an of Taiwan returns to Xu Xin of China during their men's team semi-final match of the table tennis team world championships in Tokyo, Japan, on Sunday.
Photo: EPA
Players from the Seychelles, the Indian Ocean holiday paradise, are rising through the international ranks and a 13-year-old Puerto Rican schoolgirl is the game's newest sensation.
Underlining its status as one of the world's most popular sports, the International Table Tennis Federation (ITTF) has 220 members — more than soccer body FIFA.
High-profile devotees include the Obamas, Britain's Duchess Kate and pop's enfant terrible Justin Bieber, while a new Susan Sarandon comedy, Ping Pong Summer, is the latest Hollywood movie to jump on the bandwagon.
It may lack sex appeal with its sensible shorts and haircuts, but table tennis has played an important role in defusing political tension, and Ukraine's players told reporters they hoped it could do so once more as crisis deepens in their country.
"We worry if tomorrow we'll wake up and not be Ukraine anymore — whether we'll be Russia, and we don't want that," Tetyana Bilenko said of the escalating violence. "We're good friends with the Russian players and we'll never fight, but we don't speak about politics. I'm sure sport can bring people together and hope it will help bring peace."
"Ping-pong diplomacy" famously facilitated one of the most significant political breakthroughs of the Cold War era in 1971, when a US team played in China, paving the way for then-US president Richard Nixon's historic visit a year later.
In the US comedy Seinfeld, lead character Jerry once quipped: "I would've been friends with Stalin if he had a ping-pong table."
Such universal fondness for table tennis, which began as a parlor game in 19th-century Britain, is mirrored in its popularity worldwide. Despite the wide enjoyment of the sport, one country — China — remains firmly in control, exerting dominance once described as "devastating" for the sport by ITTF president Adham Sharara.
And the Chinese, winners of nearly every Olympic title over the past 20 years, reinforced their supremacy by retaining both their men's and women's titles in Monday's finals.
Elsewhere, Seychelles players were fighting for Commonwealth Games spots in Tokyo and the Indian Ocean nation has made rapid progress since the 1980s, topping the region's rankings in women's singles.
"When the sport started, we had three balls for 12 players," said Seychelles federation president Francis Remie. "We had to watch those balls like a hawk. Table tennis is a safe sport and parents put their kids into it feeling sure they will grow up to be disciplined citizens."
Already a celebrity in Puerto Rico and a YouTube hit, the pint-sized Adriana Diaz offered a tantalizing glimpse of the sport's future as she joyfully swatted the ball around.
"Table tennis is good because it can keep children away from drugs and alcohol," she said, her hair in bunches and braces on her teeth. "I love the travel, but when I go to China to train, I take things like cookies, spaghetti and cornflakes." Inevitably, the Tokyo championships, beamed live to more than 100 countries, brought together countries politically at odds with one another.
South Korea's players, wearing black armbands in memory of last month's ferry disaster, suggested relations with the bellicose North could be improved through sport.
"The players know each other, we practice together and are quite friendly," said Seo Hyo-won, agreeing that peering at each other over a net beats a political stare-down. "I do think it's possible table tennis can bring us closer. I hope so."
However, North Korea's delegation were not for defrosting and stony-faced coaches and minders ordered players not to speak about the South, with whom the communist state remains technically at war.
Unrelated to the tournament, in the park adjacent to the Tokyo venue, a John Lennon lookalike sang Give Peace a Chance as teams inside the arena did battle.
Yet the harsh realities were never far away.
"We can't train normally or live normally," Palestinian player Nader Qasem said. "If rockets are fired, our gyms get damaged."
Comments will be moderated. Keep comments relevant to the article. Remarks containing abusive and obscene language, personal attacks of any kind or promotion will be removed and the user banned. Final decision will be at the discretion of the Taipei Times.