Pedroia hits grand slam for 100th homer over A's
EXCLUSIVE CLUB: Pedroia's homer in the 7-1 win, his first of the season, made him only the second Red Sox player to have 100 career homers and 100 stolen bases
AMERICAN LEAGUE
Dustin Pedroia hit a grand slam for his 100th career home run, Clay Buchholz earned his first win at home and the Boston Red Sox beat the Oakland Athletics 7-1 on Friday night.
Pedroia had yet to homer this season before driving an 0-2 pitch to left field in the sixth inning to put Boston up 6-1. The cushion was plenty for Buchholz (2-2), who shut down the team with the top record in the American League.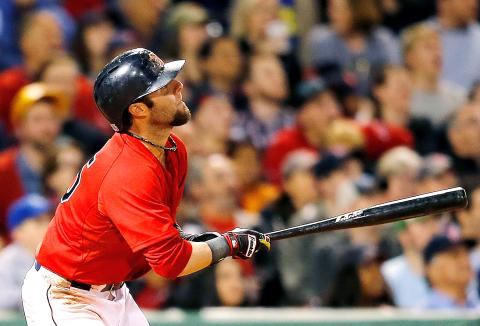 Dustin Pedroia of the Boston Red Sox connects for a grand slam home run in the sixth inning against the Oakland Athletics at Fenway Park in Boston, Massachusetts, on Friday.
Photo: AFP
Buchholz pitched 6-1/3 innings, allowing three hits while striking out five. He walked three and got himself out of several jams as the A's went naught-for-seven with runners in scoring position against the right-hander.
Pedroia joined Carl Yastrzemski as the only Red Sox players with 100 home runs and 100 stolen bases.
Dan Straily (1-2) gave up two runs and four hits in 4-1/3 innings.
TIGERS 8, ROYALS 2
In Kansas City, Missouri, Rick Porcello cruised through seven innings as Detroit battered Kansas City right-hander James Shields again in the opener of a three-game set.
Victor Martinez had a pair of doubles and drove in two runs. J.D. Martinez and Alex Avila also drove in two runs apiece as the Tigers won their fourth straight against the Royals.
Porcello (4-1) extended the best start of his career, giving up a solo homer to Billy Butler and a sacrifice fly to Eric Hosmer. The right-hander allowed four hits while striking out six without a walk.
Shields (3-3) yielded eight runs — seven earned — and 12 hits in 6-1/3 innings. It was his worst outing since September last year, when Shields gave up 10 runs in another lousy start against the Tigers.
The Royals also lost All-Star catcher Salvador Perez when he fouled a pitch off his shin in the seventh.
RAYS 10, YANKEES 5, 14 inns
In New York, Wil Myers and the Tampa Bay Rays broke loose in the 14th inning while holding Derek Jeter to the worst hitting performance of his career, outlasting New York for a wild win that ended at 12:57am yesterday.
Jeter went naught-for-seven for the first time and grounded out with the bases loaded to finish the 13th. It was already a crazy game by then, and Yankee Stadium was nearly empty when it finally ended after 5 hours, 49 minutes.
The late innings saw a bit of everything: Rallies by both teams, a wild rundown featuring seven throws, two calls overturned and the ejection of Rays manager Joe Maddon.
The Rays also spent time trading gloves when they went to a five-man infield in the 13th. The switching positions led to a most strange putout: Brett Gardner grounded out and it was officially scored as 3-9 — first baseman to right fielder.
Myers got three of the Rays' 20 hits, and put them ahead 6-5 against Chris Leroux (0-1). Sean Rodriguez doubled home a run, setting up RBI singles by Brandon Guyer, Yunel Escobar and Ryan Hanigan.
Heath Bell (1-1) dodged all sorts of trouble, pitching 2-1/3 scoreless innings for the win.
Desmond Jennings homered as the Rays matched a season best with a three-game winning streak.
Brian McCann, Mark Teixeira and Alfonso Soriano homered as New York lost their third straight in Joe Girardi's 1,000th regular-season game as manager.
Jacoby Ellsbury lined a tying single with two outs in the bottom of the ninth.
In other AL action, it was:
‧ Orioles 3, Twins 0
‧ Indians 12, White Sox 5
‧ Rangers 5, Angels 2
‧ Astros 5, Mariners 4, 11 inns
NATIONAL LEAGUE
AP, CHICAGO
Anthony Rizzo hit a two-run single in the first that ended Adam Wainwright's scoreless streak at 25 innings, and the Chicago Cubs beat the St Louis Cardinals 6-5 on Friday for their third win in four games.
Wainwright (5-2) had allowed six runs in 45 innings coming in, but the Cubs matched the runs total in just five innings against the St Louis ace, who gave up 10 hits. His ERA rose from 1.20 to 2.16.
The scoreless streak was one inning shy of the career high for Wainwright, who had been 6-0 in 12 previous starts and five relief appearances at Wrigley Field.
Rizzo added a leadoff home run in the fifth against the Cardinals, who have lost 10 of 16.
Travis Wood (2-3) gave up three runs — two earned — and six hits in seven innings, and Hector Rondon pitched a perfect ninth for his second save.
MARLINS 6, DODGERS 3
In Miami, a surprising Tom Koehler outpitched Josh Beckett as the Marlins extended their home winning streak to seven games by beating the Dodgers.
Koehler (3-2) allowed three hits in seven scoreless innings. The right-hander began the year with a career record of 5-11, made the rotation as a fifth starter and now has an ERA of 2.41.
Beckett (0-1) struck out eight but gave up four runs in 6-2/3 innings. He fell to 0-6 in his past 13 starts and remained winless since the end of the 2012 season, even though his ERA this year is 3.14.
The Dodgers arrived in Miami at 6:30am after playing for more than eight hours on Thursday at Minnesota to earn their first doubleheader sweep in 12 years, and they looked travel-logged while falling behind 6-0.
Twice a bloop single dropped among three Los Angeles fielders to allow a run to score.
BREWERS 2, REDS 0
In Cincinnati, Ohio, Wily Peralta doubled home two runs — the first RBIs of his career — and repeatedly escaped trouble during his eight innings, leading the Brewers to a victory over the Reds.
The NL Central leaders improved the best record in the majors to 21-9 and opened a 7.5-game lead over Cincinnati. The Brewers are 12-3 on the road.
Peralta (4-1) made his fifth quality start of the season, holding the Reds to three hits and a pair of walks while throwing 110 pitches. Francisco Rodriguez retired the three batters he faced for his 14th save in as many chances.
Peralta doubled with two outs in the fifth off Mike Leake (2-3), who left his first pitch over the plate. Leake gave up seven hits and fanned five as he went eight innings for the second time this season.
In other NL action, it was:
‧ Nationals 5, Phillies 3
‧ Giants 2, Braves 1
‧ Diamondbacks 2, Padres 0
‧ Rockies 10, Mets 3
In other interleague play, it was:
‧ Pirates 6, Blue Jays 5
Comments will be moderated. Keep comments relevant to the article. Remarks containing abusive and obscene language, personal attacks of any kind or promotion will be removed and the user banned. Final decision will be at the discretion of the Taipei Times.