Lillard stunner puts Blazers into second-round playoffs
Portland's Damian Lillard hit a three-pointer at the buzzer to give the Trail Blazers a stunning 99-98 win over Houston on Friday, clinching a 4-2 win in their playoff series and a place in the NBA Western Conference semi-finals for the first time 14 years.
On a dramatic day in the playoffs, Dallas staged a fourth-quarter comeback to overrun Texan rival San Antonio and square their series at 3-3, while Brooklyn also won at home against Toronto to force a Game 7 in their series.
Portland, making their first playoff appearance since 2011, had been eliminated in the first round in their last six trips, and had not advanced to the second round since 2000.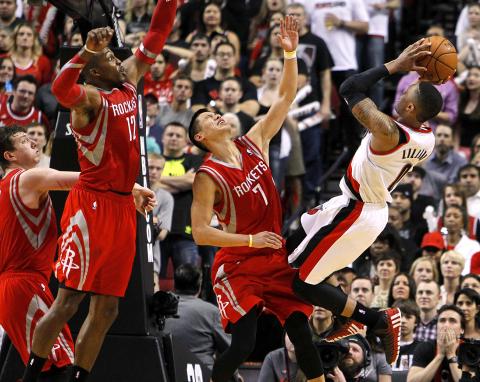 Portland Trail Blazers guard Damian Lillard, right, shoots over Houston Rockets guard Jeremy Lin, center, and center Dwight Howard, left, in the second half of their Conference quarter-final NBA game at the Moda Center in Portland, Oregon, on Friday.
Photo: EPA
Dwight Howard's layup and foul shot put the Rockets up 96-94, but Nicolas Batum's fadeaway jump shot tied it again with 39.9 seconds left.
Chandler Parsons scored on a reverse layup with 0.9 seconds left to give Houston the lead, but there was just enough time for Lillard to hit a three-pointer that will go down in Blazers folklore.
Portland will face the winner of the series between San Antonio and Dallas, and that remains up for grabs after the Mavericks pulled off an equally dramatic 113-111 comeback win over the Spurs.
Monta Ellis scored 12 of his 29 points to lead a fourth-quarter surge. It was an unlikely comeback by the eighth-seeded Mavericks, as San Antonio had won every time this season when leading after three quarters in a road game.
Dirk Nowitzki added 22 for Dallas, who will travel to San Antonio for the decider today with the knowledge that the last time they went there for a Game 7, they won, in 2006.
Tony Parker scored 22 to lead the heavily favored Spurs, who won all four games against Dallas during the regular season and had been expected to quickly dispatch their state rival.
Brooklyn had a relatively comfortable 97-83 home win over Toronto, with Deron Williams shaking off a second-half injury to score 23 points.
Despite appearing to hurt his left foot or ankle early in the third quarter, Williams dominated his matchup with Kyle Lowry and helped the Nets put it away with a three-pointer with 1 minute, 13 seconds left that made it 92-79.
Game 7 is today in Toronto, with the winner advancing to face the defending champions Miami Heat.
DeMar DeRozan scored 28 for the Raptors, who have never won a post-season series that went seven games, and have not won any playoff series in 13 years.
Comments will be moderated. Keep comments relevant to the article. Remarks containing abusive and obscene language, personal attacks of any kind or promotion will be removed and the user banned. Final decision will be at the discretion of the Taipei Times.