Dortmund's Reus, Liverpool top AP's weekly soccer poll
Liverpool were named team of the week for the fourth time this season in The Associated Press' (AP) weekly soccer poll, following their 3-2 victory over Premier League title rivals Manchester City on Sunday.
Borussia Dortmund striker Marco Reus led the player vote for the second time, after scoring three goals in games against Real Madrid and Bayern Munich.
The Reds' result against City on Sunday was their 10th straight win and kept them top of the Premier League. Liverpool have three players in the poll's top Sunday's winner, Raheem Sterling, who netted the opening goal, and captain Steven Gerrard, ranked fourth, fifth and ninth respectively.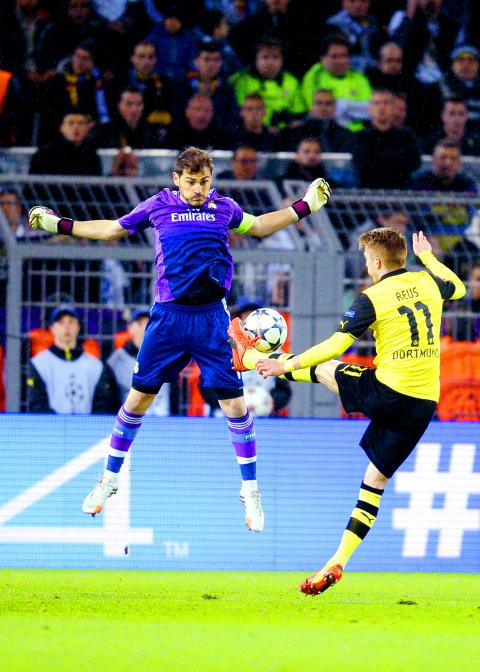 Borussia Dortmund's Marco Reus, right, scores past Real Madrid's Iker Casillas in their UEFA Champions League quarter-final second leg on April 8 in Dortmund, Germany.
Photo: AFP
Reus scored both goals as Dortmund beat Real Madrid 2-0 in the second leg of their UEFA Champions League tie and although the result was not enough to overturn the 3-0 deficit in the first leg, Dortmund polled third in the team vote.
Reus also scored in his side's 3-0 Bundesliga win against Bayern.
La Liga leaders and Champions League semi-finalists Atletico Madrid were second, trailing Liverpool by four points, with striker Diego Costa rated 10th.
"Many supporters from Atletico Madrid say: 'Yes, we can,'" panelist Orfeo Suarez of Spain's El Mundo said on whether los Colchoneros could win both competitions. "After a great week with its victories over Barcelona and Getafe, Atletico arrives in the semi-final of the Champions League after 40 years and is closer to the title in La Liga."
Atletico's Koke was tied for seventh in the player poll with Real Madrid's Angel Di Maria, who helped los Blancos rout UD Almeria 4-0 to stay on Atletico's tail in La Liga.
Real were ranked fifth and fellow La Liga side Granada seventh after stunning Barcelona 1-0.
Gonzalo Higuain was runner-up to Reus for scoring a hat-trick to put SSC Napoli — ninth in the team poll — 4-2 past SS Lazio in Serie A.
Demba Ba of Chelsea placed third for his key goals in the Champions League quarters and the Blues' 1-0 Premier League victory against Swansea City.
"It has been an amazing week for Demba Ba. From zero to hero in a few days," Aurelio Capaldi of Italy's RAI Sport said.
Comments will be moderated. Keep comments relevant to the article. Remarks containing abusive and obscene language, personal attacks of any kind or promotion will be removed and the user banned. Final decision will be at the discretion of the Taipei Times.