Pacers edge Bucks, take top spot
NAIL-BITER: Indiana now lead the Eastern Conference thanks to a layup from Chris Copeland with 1.2 seconds left, while Jeremy Lin led the Rockets in a losing effort
Chris Copeland's driving layup with 1.2 seconds remaining gave the Indiana Pacers a 104-102 victory over the Milwaukee Bucks on Wednesday night that moved them back into first place in the Eastern Conference.
Copeland finished with a season-high 18 points. Luis Scola also recorded a season high with 24 points and Evan Turner added 23 for Indiana, who benched all of their usual starters for the entire game.
Coach Frank Vogel made the move after saying his team appeared tired following a 107-88 home loss to Atlanta on Sunday, when the Pacers were held to a franchise-low 23 points in the first half.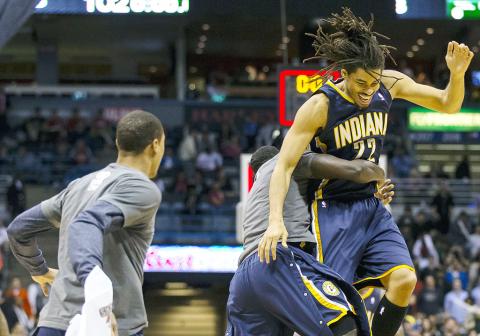 Indiana Pacers forward Chris Copeland, right, is congratulated by teammates after scoring the game-winning shot during the fourth quarter against the Milwaukee Bucks at the BMO Harris Bradley Center in Milwaukee, Wisconsin, on Wednesday.
Photo: USA TODAY
Even without the starters, Indiana moved a half-game ahead of the Heat heading into tonight's matchup in Miami.
NUGGETS 123, ROCKETS 116
In Denver, Randy Foye scored 24 of his 30 points in the second half, and Denver hung on to beat Houston.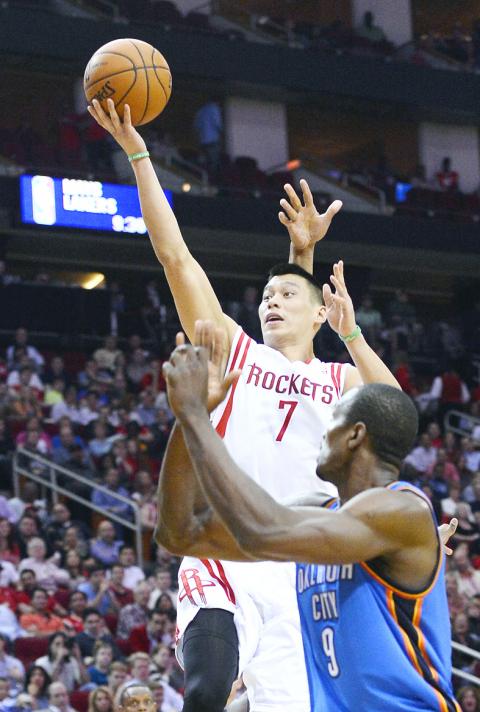 Houston Rockets player Jeremy Lin, center, goes to the basket against Oklahoma City Thunder player Serge Ibaka, right, in the first half of their NBA game in Houston, Texas, on Wednesday.
Photo: EPA
Kenneth Faried had 23 points and Timofey Mozgov added 22 for the Nuggets, who beat the Rockets for the first time in three tries this season.
Jeremy Lin led eight Houston players in double figures with 18 points.
Both teams were missing key players heading into the game and the Rockets got a scare when James Harden, leading a fast break, appeared to bang his left shin in a collision with Aaron Brooks midway through the third quarter. Fouled on the play, Harden made both free throws and left the game briefly to have the leg tended to before returning to action.
HAWKS 105, CELTICS 97
In Atlanta, Jeff Teague scored 19 points, while Kyle Korver added 17 as Atlanta helped its playoff chances with a victory over Boston.
With four games remaining in the regular season, Atlanta increased their lead to two games over the New York Knicks for the eighth and final Eastern Conference playoff spot.
Avery Bradley finished with 24 points and Rajon Rondo had 19 points with 12 assists for Boston, who have lost nine straight.
The Celtics dropped their 13th in a row on the road, breaking the franchise mark set during the final 13 games of 1978-1979.
GRIZZLIES 107, HEAT 102
In Memphis, Tennessee, Zach Randolph had 25 points and 11 rebounds, while Marc Gasol added 20 points and 14 rebounds as Memphis kept their playoff hopes alive with a victory over Miami.
LeBron James led the Heat with 37 points, connecting on 14 of 23 shots, including three of five from beyond the arc. Rashard Lewis scored 17, while Chris Bosh finished with 13 points. Mario Chalmers scored 12 points for the Heat.
Meanwhile, the loss, coupled with the Indiana Pacers' 104-102 win at Milwaukee, dropped the Heat into the second spot in the Eastern Conference.
Mike Conley finished with a team-high 26 points and handed out six assists as Memphis remained one game behind the Phoenix Suns for the final playoff spot in the Western Conference. The Suns defeated the New Orleans Pelicans 94-88 also on Wednesday night.
RAPTORS 125, 76ERS 114
In Toronto, Jonas Valanciunas had 26 points and 12 rebounds to lift Toronto over Philadelphia on Wednesday, less than three days after he was charged with drunk driving.
Kyle Lowry led Toronto with 29 points in his first game back after missing three with a bruised kneecap.
BOBCATS 94, WIZARDS 88, OT
In Washington, Kemba Walker made the only field goal for either team in overtime, and Charlotte won their fifth straight and moved into position for the No. 6 seed in the Eastern Conference with a win over Washington.
Walker made a three-pointer and a pair of free throws in the extra session, and Al Jefferson added two free throws to account for all of the Bobcats' post-regulation scoring. Charlotte went one-for-seven from the field, while Washington was naught-for-eight and got their only point from a free throw by John Wall with 34 seconds remaining.
Jefferson finished with 20 points and 18 rebounds, and Walker had 17 points and 12 assists, for the Bobcats, who have their longest winning streak since March 2010 .
CAVALIERS 122, PISTONS 100
In Cleveland, Dion Waiters scored 22 points and Cleveland played one of their best games this season, routing Detroit before being eliminated from the playoff chase.
Tyler Zeller scored 18 and rookie Matthew Dellavedova had 14 points and 12 assists for Cleveland, who had their playoff hopes ended when Atlanta defeated Boston 105-97.
As the Hawks were rallying to take down the Celtics, the Cavs played with passion and purpose — two things missing too often earlier this season.
Spencer Hawes added 15 points for the Cavs, who led by 32 at half and rolled to one of their best all-around performances in what has been an otherwise disappointing season.
SUNS 94, PELICANS 88
In New Orleans, Gerald Green scored 21 points, and Phoenix won their third straight game.
Goran Dragic had 20 points and nine assists for the Suns, who are clinging to the final playoff spot in the Western Conference. Eric Bledsoe added 16 points and P.J. Tucker 15 for the Suns, who handed the Pelicans their sixth straight loss.
Rookie center Jeff Withey had a career-high 17 points for the Pelicans, who were without Anthony Davis because of the All-Star forward's sore back.
THUNDER 107, CLIPPERS 101
In Los Angeles, Russell Westbrook scored 30 points in his return to the lineup, while Kevin Durant added 27 as Oklahoma City held off Los Angeles in a possible playoff preview.
Serge Ibaka added 15 points for the Thunder, who had their starting five together for just the second time since Christmas Day. Westbrook had sat out two of the previous three games and has missed 34 games this season with a variety of injuries.
Blake Griffin had 30 points and 12 rebounds, and Chris Paul added 25 points and eight assists for the Clippers, who could have owned the tiebreaker over the Thunder if they had won.
Instead, the teams split their season series 2-2.
TRAIL BLAZERS 100, KINGS 99
In Portland, Oregon, Dorell Wright hit a three-pointer with 7.9 seconds left as Portland beat late-charging Sacramento.
Ray McCallum missed a 21-foot jumper as time ran out for the Kings and Portland's Robin Lopez grabbed the rebound and held it tight for the victory. It was Wright's only basket of the game.
LaMarcus Aldridge had 22 points to lead the Blazers, who have won six of their past seven games.
Portland, who have missed the playoffs for the past two seasons, clinched a post-season berth with a 100-94 victory over New Orleans on Sunday. The Blazers were fifth in the Western Conference with three games left.
DeMarcus Cousins had 30 points and 12 rebounds for the Kings.
BULLS 102, TIMBERWOLVES 87
In Minneapolis, D.J. Augustin scored 21 points and Joakim Noah posted his league-leading fourth triple-double of the season, leading Chicago over Minnesota.
Noah had 15 points, 13 rebounds and 10 assists to move into a tie with Indiana's Lance Stephenson for the most triple-doubles in the NBA this season. Kirk Hinrich scored 16 points on seven-of-nine shooting and the Bulls hit 11 of 21 three-pointers to stay right on Toronto's heels for the third seed in the Eastern Conference.
Kevin Love had 17 points and 10 rebounds for the Timberwolves, but he only made seven of 20 shots and missed six of his eight three-point attempts.
Ricky Rubio added 15 points and six assists, but the Wolves were just four-for-17 from long distance.
In other NBA action, it was:
‧ Magic 115, Nets 111
Comments will be moderated. Keep comments relevant to the article. Remarks containing abusive and obscene language, personal attacks of any kind or promotion will be removed and the user banned. Final decision will be at the discretion of the Taipei Times.