Greater Kaohsiung, Chiayi plan cricket facilities, to include coaching academy
The Chinese Taipei Cricket Association (CTCA) announced on Wednesday that it has come to an agreement for the use of a ground in Greater Kaohsiung, including plans for a cricket academy, while a separate organization has released plans for a genuine cricket field in Chiayi City.
The CTCA has reached a 10-year agreement with the Greater Kaohsiung Government to use a field in Gangshan District, Greater Kaohsiung, Taiwan Cricket president Ali Chang said by e-mail yesterday, adding that the CTCA has plans to establish a cricket coaching academy there.
Taiwan Cricket is a non-affiliated, unofficial group that has been running cricket competitions and related activities in Taiwan for about six years, but facilities are difficult to book and games are usually played on baseball grounds.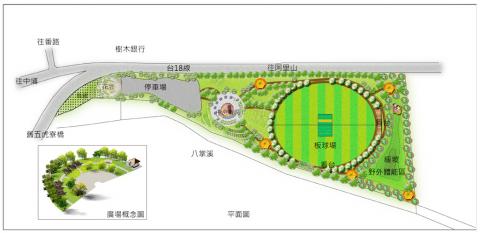 A planned cricket ground in Chiayi County is envisioned in a drawing on Wednesday.
Photo courtesy of Ali Chang
Meanwhile, Chang said a new Chiayi-based cricket organization would be announced soon.
"The new organization already has plans to build a proper cricket ground in Chiayi County," Chang said in the e-mail. "We have already sent the plans to the government, [a government] sports board, as well as to the Hong Kong Cricket Association because they will help with its construction."
Chang added that a Hong Kong company had already donated an artificial playing surface in the form of a practice wicket built at Chang Jung Christian University in Greater Tainan, and the Asian Cricket Council (ACC) was in the process of delivering two mats from the UK, one of which will go to the Taipei Cricket Federation and the other to the planned academy.
In other developments, Chang said that two players from the Hong Kong women's team would visit the university for two days within the next week to meet with and train a women's team that has formed there.
"[Former Bangladesh batsman and ACC development officer] Aminul Islam will visit Taiwan at the end of June or the start of July to assess the progress of the sport in the nation," Chang added.
Comments will be moderated. Keep comments relevant to the article. Remarks containing abusive and obscene language, personal attacks of any kind or promotion will be removed and the user banned. Final decision will be at the discretion of the Taipei Times.