Poor 'keeper culture may hurt Brazil's Cup bid
Brazil goalkeeper Julio Cesar — on the wrong side of 30 and past his prime — is the weakest link in a team which most Brazilians expect to win the FIFA World Cup in July, and that is no accident, since the country of soccer legend Pele has long paid far more attention to players who score and make goals than to those who save them.
Brazil's best-known goalkeeper is probably Barbosa and he became famous not for a great save, but for the national agony he caused when he let in the two goals that gave Uruguay the World Cup in 1950.
The first thing Brazilian children often do before pick-up games is play "rock, paper, scissors" to decide who gets stuck in goal. With so many superb Brazilian strikers and midfielders, few soccer fans chose 'keepers as their childhood idols.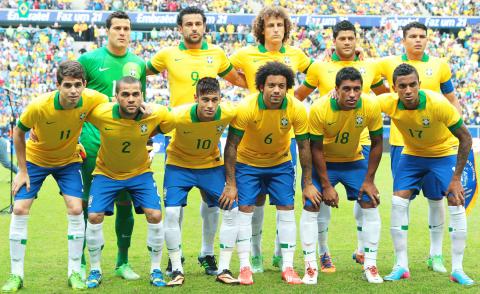 Brazil goalkeeper Julio Cesar, back left, poses with his teammates before their international friendly against France at the Arena del Gremio in Porto Alegre, Brazil, on June 9 last year.
Photo: EPA
"If the kid is good enough with the ball, probably he will not want to play in goal," Zetti, a reserve goalkeeper in Brazil's 1994 World Cup-winning squad, said in a telephone interview.
"Kids are usually scared of playing in goal and most of the time parents are always trying to convince them to play in a different position," said Zetti, who opened the nation's first academy exclusively for goalkeepers six years ago.
He said that Brazilians have long neglected to take goalkeeping seriously and since, teams did not hire trainers for that position, goalies could not match strikers and midfielders for quality.
However, Zetti said things have changed in recent decades. The attitude shift is at least partly due to Marcos and Rogerio Ceni, goalkeepers in Brazil's 2002 World Cup-winning squad, who have both influenced the sport with their successes and became idols for a new generation of soccer enthusiasts.
"Marcos and Rogerio Ceni really contributed to get more kids to want to become goalkeepers," Zetti said. "In my academy, I can see this. Because of them, there is a generation coming up that really likes goalkeepers. They are not ready to play yet, but in a few years we may be able to start seeing some results."
Marcos' saves in the 2002 final against Germany helped Brazil secure their fifth world title. He also enjoyed success with Sao Paulo side Palmeiras, winning the 1999 Copa Libertadores with the club he played on for nearly two decades.
Easygoing, but known for speaking his mind, Marcos was easy for fans of all ages to like, even those from rival teams.
Ceni was a reserve Brazil 'keeper for the 2002 and 2006 World Cups, where he came on as a substitute for No. 1 goalie and captain Dida late in a 4-1 demolition of Japan in the group stage. Ceni has won three Brazilian championships and the 2005 FIFA Club World Cup with Sao Paulo, where he remains a starter.
He stands out for scoring goals, not just saving them, having netted more than 100 penalties and free-kicks — by far the most for a goalkeeper.
Cesar was a reserve with Ceni in the 2006 World Cup squad before getting Brazil's No. 1 spot at the 2010 tournament and is considered one of the world best goalies, despite his mistake in Brazil's 2-1 quarter-final elimination by the Netherlands, when — obstructed by midfielder and teammate Felipe Melo — he failed to punch away Netherlands striker Wesley Sneijder's equalizer.
At Inter from 2005-2012, Cesar won five Italian championships and the Champions League in 2010. He and Spain's 2010 World Cup winner Iker Casillas were the only goalies nominated that year for FIFA's Ballon d'Or.
However, Cesar — now 34 — has been less impressive since moving to Queens Park Rangers, dropping out of the Premier League with the London club last year.
Rob Green replaced him in QPR's starting line-up and the club then loaned him to Toronto in Major League Soccer after he failed to find another club in Europe.
Although none of this has been ideal preparation for July, Brazil coach Luiz Felipe Scolari is sticking with Cesar, in part because he has few other options — not that many Brazilians will care. From 2002, they mostly remember Ronaldo and Rivaldo, not Marcos starring between Brazil's posts in their 2-0 defeat of Germany.
Taffarel did well in goal in 1994, but Romario and captain Dunga are the standout names from that squad. Pele, Gerson, Rivelino and Tostao overshadowed Felix's goalkeeping for the winning team of 1970.
As Brazil now attempt to win their first Cup at home, local fans only have eyes for the likes of Neymar and Oscar — the creative talents they so admire — so only if he makes howling mistakes will Cesar compete with them for attention.
Comments will be moderated. Keep comments relevant to the article. Remarks containing abusive and obscene language, personal attacks of any kind or promotion will be removed and the user banned. Final decision will be at the discretion of the Taipei Times.