Rosberg steers Merce100des to F1 victory
DAY OF THE UNDERDOGS: While senior drivers had a difficult race yesterday, Formula One's young guns grabbed the opportunity to shine on the podium
Nico Rosberg drew first blood for Mercedes in the new Formula One season with a dominant Australian Grand Prix victory yesterday after pole-sitter Lewis Hamilton and world champion Sebastian Vettel retired with reliability problems.
Vettel's early exit ended the Red Bull driver's record run of nine successive victories racked up since August last year.
While one German smarted, another celebrated as 28-year-old Rosberg capitalized on a brilliant start from third on the grid, snatching the lead before the first turn and roaring to a 24.5-second victory ahead of Red Bull's Australian Daniel Ricciardo.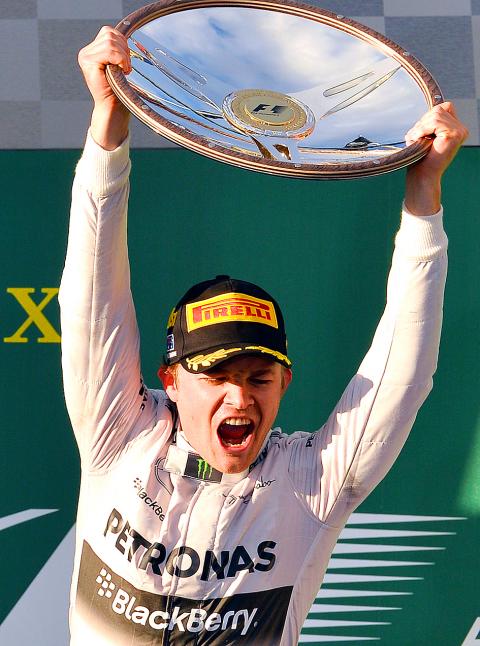 Nico Rosberg shouts in celebration on the podium after winning the Australian Grand Prix in Melbourne yesterday.Photo: AFP
Nico Rosberg shouts in celebration on the podium after winning the Australian Grand Prix in Melbourne yesterday.Photo: AFP
On an overcast day at Albert Park, Danish rookie Kevin Magnussen shone with a brilliant third-place finish for McLaren, emulating Hamilton's first effort for the British team at the same Grand Prix in 2007.
The result meant all three men on the podium had beaten world champion teammates in a stunning triumph of the underdogs.
Rosberg, tipped to duel with teammate Hamilton for the championship, celebrated his fourth race victory and first since last year's British Grand Prix, when he was also the beneficiary of technical mishaps to Hamilton and Red Bull's Vettel.
"Brilliant stuff, what a car you've given me! What a car!" the thrilled German said over the team radio after crossing the line.
The gaping margin of victory underscored Mercedes' superior preparations for F1's technical revolution, which saw all teams struggle during winter testing with the new V6 turbocharged hybrid engines.
The glitches continued as only 14 of the 22 cars finished on a gusty day at the bumpy street circuit which was doused by a brief rain shower early in the race.
Hamilton, who snatched pole position at the end of a wet qualifying session on Saturday, noticeably lacked power on his start and was called in by his team to retire on the third lap.
Mercedes later clarified his car had suffered a misfiring cylinder.
"We will recover from this, it's only a small hiccup. There's a long way to go still," Hamilton told Sky television. "At the moment I'm not concerned about anything."
Twelfth off the grid, Vettel also struggled at the start and retired only a few laps after Hamilton, complaining of engine performance problems.
Ricciardo, who replaced compatriot Mark Webber at Red Bull after crossing from sister team Toro Rosso, thrilled home fans by taking his maiden podium spot in his first race with his new team and drove with admirable composure after being challenged by Magnussen over the closing laps.
Magnussen's podium was the first by a Dane in Formula One and McLaren's first since 2012, the 21-year-old outshining 2009 champion teammate Jenson Button, who finished fourth in front of Ferrari's two-time world champion Fernando Alonso.
Williams driver Valtteri Bottas finished sixth for his best F1 result after an outstanding race from 15th on the grid, having also overcome a punctured rear tire after brushing a barrier. His eight-point haul was more than his team scored in all of last season.
However, his new teammate Felipe Massa was unable to add to the tally, having been taken out of the race at the first turn by Caterham's Kamui Kobayashi.
The Japanese ploughed into the back of Massa's Williams, enraging the Brazilian and prompting an investigation.
Kimi Raikkonen's eighth-placed finish behind Force India's Nico Hulkenberg capped a frustrating return to Maranello for the 2007 world champion, who started 11th on the grid after a crash during qualifying.
Russian rookie Daniil Kvyat finished 10th on his debut for Toro Rosso, becoming at 19 years old the sport's youngest points scorer ever.
Lotus's insipid race weekend finished with both Romain Grosjean and Pastor Maldonado unable to complete the race due to reliability problems.
The race stumbled at the start, with Marussia driver Max Chilton stalling on the grid before the pre-start installation lap, and his teammate Jules Bianchi then repeating the mishap.
Bianchi, along with both Caterhams, was unable to finish.
Comments will be moderated. Keep comments relevant to the article. Remarks containing abusive and obscene language, personal attacks of any kind or promotion will be removed and the user banned. Final decision will be at the discretion of the Taipei Times.