Suzuki decisions Larson to capture ONE FC title
Nobutatsu Suzuki was crowned the inaugural ONE FC welterweight champion in Kuala Lumpur on Friday night.
His opponent, Brock Larson, quickly asserted his wrestling credentials by taking Suzuki down and landing several elbows in the first round.
Suzuki enjoyed success with his accurate knees in the second round that had Larson scrambling for a takedown. The third round was fairly tentative, with Suzuki attempting several knee strikes while Larson tried in vain for a takedown.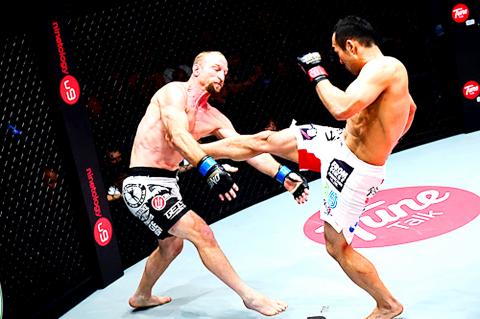 Nobutatsu Suzuki of Japan, right, kicks Brock Larson of the US on his way to winning the ONE FC welterweight title in Kuala Lumpur on Friday.
Photo courtesy of ONE FC
Suzuki continued landing strikes to Larson's midsection in the fourth and fifth rounds, prompting Larson to tempt Suzuki to compete with him on the ground. A disinterested Suzuki allowed Larson to stand back up on numerous occasions, only to continue dishing out significant strikes to Larson's midsection. The judges awarded Suzuki a unanimous decision, making him the ONE FC welterweight champion.
The co-main event of the night featured a clash of highly touted bantamweights. Kim Dae-hwan continued his meteoric rise up the ranks by submitting Kevin Belingon in the first round. Belingon appeared to have the upper hand in early exchanges, but Kim capitalized on an ill-advised submission attempt by Belingon. Kim escaped the choke and applied a choke of his own, forcing Belingon to tap out, boosting his undefeated record to 10-0-1.
Adriano Moraes emphasized why he is considered one of the best flyweight prospects in the world with a clinical display against Yasuhiro Urushitani. His explosive striking was on full display in the first round, catching the Japanese veteran with a well-timed flying knee. He then proceeded to demonstrate his grappling skills in the second round, with a sleek maneuver that quickly saw him take Urushitani's back and sink in the rear naked choke.
ONE FC: War of Nations also saw a battle between two top lightweights when Ariel Sexton and Kamal Shalorus clashed. The highlight of the first round was a flying knee attempt by Sexton, which Shalorus caught. The Iranian then lifted Sexton off the ground and slammed him to the canvas.
Sexton's frenzied and unorthodox style began to cause problems for Shalorus, prompting Shalorus to return to his wrestling roots with multiple takedown attempts in a fairly even middle round.
The third round was another close call, as Shalorus utilized his takedowns to nullify Sexton's striking advantage. All three judges sided with Shalorus.
Comments will be moderated. Keep comments relevant to the article. Remarks containing abusive and obscene language, personal attacks of any kind or promotion will be removed and the user banned. Final decision will be at the discretion of the Taipei Times.