Lewis Hamilton justifies favorite tag for Mercedes
Bad weather and a plucky Australian driver threatened to rain on Mercedes' parade at the Australian Grand Prix yesterday, but Lewis Hamilton's last-gasp pole kept the Silver Arrows on top for today's race.
A topsy-turvy day of howling gales, rain squalls and crashes came to a head in the final seconds of qualifying, with Red Bull's new boy Daniel Ricciardo all but stealing pole from under the favorites' nose.
With the session wound up, 2008 world champion Hamilton roared home in a frenetic finish to wrest back first spot on the Albert Park grid. Ricciardo qualified second for his home race.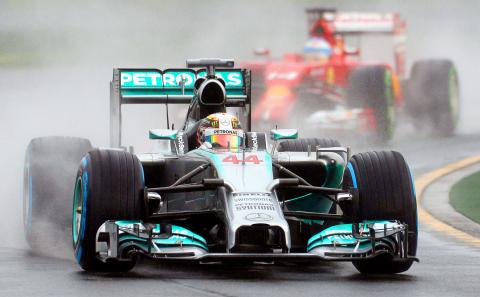 Mercedes driver Lewis Hamilton of Britain, left, speeds through the rain as he leads Ferrari driver Fernando Alonoso of Spain during qualifying for the Formula One Australian Grand Prix at the Albert Park circuit in Melbourne yesterday.
Photo: AFP
"It's been an interesting weekend," Hamilton told reporters with marked understatement.
"The conditions made it extremely difficult. There was so much more power, so much more wheelspin," he said.
"Great fun otherwise, and I hope that the weather's better tomorrow, mostly for the fans, but also for us," the 29-year-old Briton added. "These new cars are a lot harder to drive in the wet, and it was the first time for me driving [this year's car] in the wet... So, serious task and challenge today, but for both me and Nico [Rosberg] to be up here is a great story for the team."
Mercedes arrived Down Under quietly confident after a promising winter testing in which they appeared far more comfortable with the intricacies of the new turbocharged hybrid engines than their rivals.
All that appeared an illusion as Hamilton's first foray in Friday practice ended in seconds when his car came to a complete stop due to an oil pressure sensor failure.
However, Hamilton hit back to top the timesheets in the second session, before German teammate Rosberg underlined Mercedes' dominance in the final practice yesterday by topping the timesheets nearly 1.5 seconds clear of McLaren's Jenson Button.
Hamilton's pole was his 32nd, matching Nigel Mansell's British record.
"One of the greatest British drivers we had," Hamilton said of the Englishman, who won a world championship with Williams in 1992. "To be in Formula One has always been my dream, but to get as many poles as him is an incredible achievement. I really owe that to all the great people I worked with throughout my career. I wouldn't be able to put in all those laps without all those people helping me."
Mercedes are a second quicker in pace to the rest, Button said, and some scattered showers forecast for today are unlikely to prove much of a roadblock.
However, fuel consumption is expected to prove more of a lottery, as drivers battle to conserve their quota of 100kg of petrol, in a new rule for race day.
"Of course, it's going to be a completely different story again from today," said Rosberg, who will start third.
"I think more likely it's going to be dry and it'll be totally different because this year, especially Melbourne, it's the most difficult track for fuel consumption. So it's going to be difficult tomorrow to save enough fuel for the race," Rosberg said.
Comments will be moderated. Keep comments relevant to the article. Remarks containing abusive and obscene language, personal attacks of any kind or promotion will be removed and the user banned. Final decision will be at the discretion of the Taipei Times.